Stereoscopic 3D downloads come to PS3, Macs
Free app promises 3D film library access
A software download's been released that its maker has promised will extend pay-per-view 3D film access to Macs and PlayStation 3 consoles.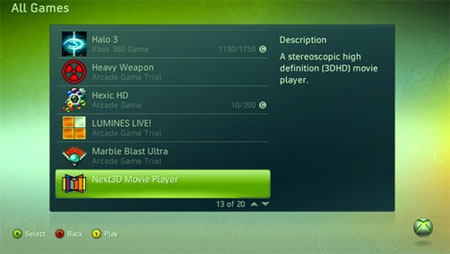 Next3D is compatible with the PS3, Xbox 360 (above), PCs and Macs
Next3D's application enables consumers to download and play 1080p stereoscopic 3D movies and other 3D content, including film clips, on Macs and the Sony console. It's already available for PCs and the Xbox 360.
Although the app itself is free, the content – of course – isn't. 3D films come courtesy of Next3D's content delivery service, which takes its library from Imax 3D offerings, cinema 3D releases and 3D movie trailers.
The service will also give you access to a user-generated content channel where independent producers and "stereo enthusiasts" can post and share 3D video.
The software can, of course, also be used with 3D-ready TVs, such as Mitsubishi's 73in LaserVue telly.
3D fans can download the Next3D app online. ®
Sponsored: Becoming a Pragmatic Security Leader