World's first waterproof, solar phone unveiled
Eco-power, while talking in the bath
Whether the market's been crying out for phone that's waterproof and solar-powered or not, wacky Japanese phone firm KDDI and Sharp have put their heads together to create one.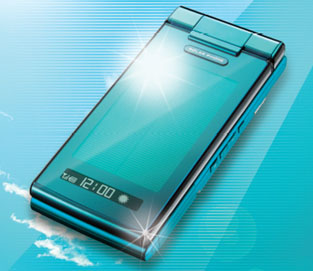 World's first waterproof and solar-powered phone
Hailed as a world's first, the waterproof talker will let you safely hold conversations in the rain, from the bottom of the pool or while in the shower.
Provided a decent amount of sunlight's surrounding you at all such locations, the phone will also power itself too. A ten-minute sunbathe is all the time required to generate enough juice for several minutes of talk time, or up to two hours of standby life.
Sadly, neither firm's yet said anything about the phone's other features.
The waterproof and solar talker is expected to surface in Japan during June. ®