Epson gets into interactive coffee tables
It's not Surface, honest!
Watch out Microsoft Surface, because there's a new touch-sensitive interactive coffee table in town: the X-Desk.
Can't see the video? Download Flash Player from Adobe.com
Much like Surface, X-Desk lets users interact with digital content through a flat 1024 x 768, 52in multi-touch screen that can also communicate with other gadgets, including mobile phones and cameras, placed onto its surface.
X-Desk will recognise up to 16,000 objects using "Smart Tags" and gesture recognition allows multiple users to, say, draw out objects on its surface.
Pictures, video and audio can be transferred wirelessly using Bluetooth 2.1, but X-Desk also has a FireWire connection and five USB 2.0 ports. It'll even work with a wireless keyboard and mouse.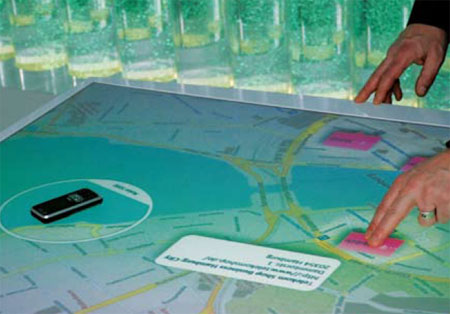 An Epson 3LCD projector and 2.4GHz Intel Core 2 Duo processor hide inside
Developed by Epson, interactive projection media firm Impressx and design development engineers Engage, X-Desk is based around a 2.4GHz Intel Core 2 Duo processor with 1GB of DDR2 memory and a 250GB hard drive. An ATI HD 4850 graphics card is also on-board and the integrated speakers can pump out 80W of sound.
The body itself measures 1130 x 910 x 900 mm and consists of a camera, a PC loaded with specialist software, optical sensors that register and interpret surface touches by users and an Epson 3LCD projector.
Many of X-Desk's features are customisable, which the developer trio claimed will make the gadget easily adaptable for use as a consumer or business-orientated toy.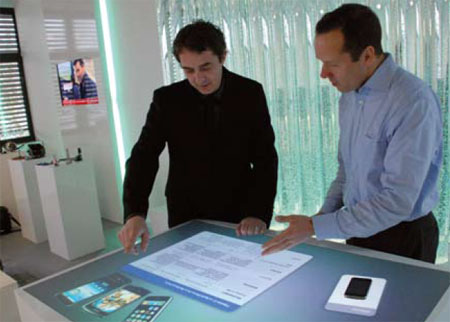 Just another Surface?
For example, a mobile phone company could use it as a fun way of simultaneously comparing the features of two handsets. Other potential uses include as a navigation device, an interactive menu or point of sale attraction.
The X-Desk is available now to buy, but a starting price hasn't been released yet. ®