Govt powers up electric cars with £5k subsidy
Sweetener available from 2011
'Leccy Tech Anyone looking to buy an electric car in the UK could soon be eligible for a £5000 ($7500/€5600) rebate, thanks to a new government eco motoring incentive.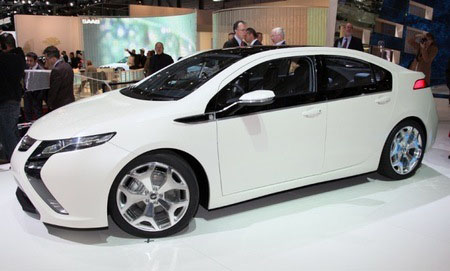 Cars like Vauxhall's Ampera (above) could become £5K cheaper come 2011
The subsidy, grant, rebate or whatever you care to call it will be available from 2011 and will apply to both hybrid and electrically powered cars.
Exactly which cars qualify will be determined by the amount of CO2 pumped out of the exhaust. So Register Hardware suspects that both extended range hybrids, such as the Opel Ampera and the rumoured Jaguar XJ-e, and pure e-cars, like the Tesla Model S, will all qualify.
The rebate's the next stage in Gordon Brown's e-car revolution and will be officially announced later today by Transport Secretary Geoff Hoon and Business Secretary Lord Mandelson.
Coincidentally, $7500 is exactly the size of the Federal rebate that US electric car buyers can already apply for.
As part of the new UK initiative, 200 electric vehicles will also be made available in selected cities for the public to try out.
While clearly of interest to potential buyers of leccy cars, the rebate could also encourage the likes of General Motors and Nissan to plump for the UK as the preferred manufacturing base for their electric vehicles.
For example, it's reasonable to assume that Vauxhall will sell far more Amperas in the UK if each one is actually £5000 cheaper than the planned sticker price.
The government said it also wants to find ways to support the ongoing costs of electric cars. "We are looking at ways we can continue to support [electric car owners], perhaps, the cost of the batteries - leasing or renting them - there are various options around", said Hoon.
He added that decarbonising road transport could help the UK meet its targets of reducing CO2 emissions by 26 per cent by 2020 and by 80 per cent come 2050.
"Something like 35 per cent of all our carbon emissions are caused by domestic transport", he said. "Of that, 58 per cent of the emissions are caused by motor cars". ®
Sponsored: How to Process, Wrangle, Analyze and Visualize your Data with Three Complementary Tools