ZuneHD en-route to Blighty?
Mole talks of OLED Zune for '3D Xbox games'
The Microsoft Zune Portable Media Player could finally land in Blighty this year, but as an HD-capable model with an OLED display.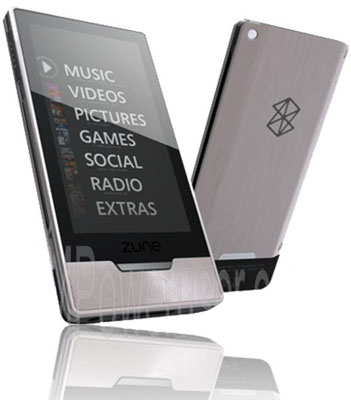 A mock-up of how the ZuneHD could look
Image courtesy of WMPowerUser
A mole talking to website WMPowerUser has claimed that Microsoft's "ZuneHD" will have a multi-touch display, with 16:9 aspect ratio, that's able to support HD video playback.
A TV-out port would be included on one side, as would an HDMI port for connection into your HD telly. It may also allow for wireless synchronisation with your PC.
Rumoured to be available in 16GB and 32GB capacity models, ZuneHD could also include a web browser – presumably Internet Explorer, and support 3D versions of Xbox games – although nothing more is yet known about this juicy feature.
If the mole's information is correct then the ZuneHD could appear in the UK, North America, Canada and France this September. A price hasn't been leaked yet. ®