FEV talks up Caliber ReEV
A Dodge Caliber in disguise
'Leccy Tech Although General Motors (GM) is yet to announce specific technical details about the drive train for its Volt plug-in Extended Range (ER) e-car, American auto-engineering firm FEV has been more than forthcoming about its own upcoming 'leccy motor.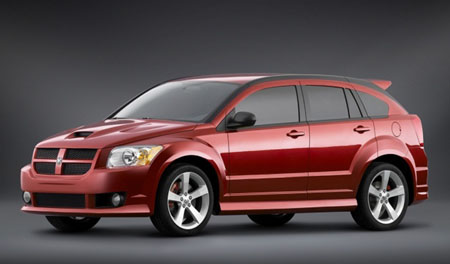 FEV's Caliber ReEV is based on the chassis and body of a Dodge Caliber (above)
The Caliber ReEV uses the chassis and body of a Dodge Caliber, with a propulsion system that employs a 1.0L, three cylinder, four valve engine that - mated to a UQM PP75 generator - provides 41kW of continuous power in ER mode, and peak power of 75kW.
FEV plans to showcase its prototype plug-in ER e-car at the Society of Automotive Engineers Congress in Detroit next week.
The unveiling will also act as a means of highlighting the capabilities of its recently completed Hybrid and Electric Vehicle Development Centre in Michigan. According to FEV's CTO and Vice President, Dr. Joachim Wolschendorf, the event will also help "evaluate different options for the engine/generator unit, and the associated calibration strategies".
FEV also announced that the Caliber ReEV's energy storage system consists of a 20kW-h liquid-cooled lithium-ion battery pack that operates at 346 volts. The car's drive wheels are powered by a UQM PP125EX electric motor.
The Caliber ReEV can go for 40 miles on battery power alone, FEV claimed, and will hit 60mph in 8.3 seconds. Its top speed is 83mph.
Engineers at GM have often said that the Volt's 1.4L four pot is a little too large and powerful for the job in hand, but that it was the closest thing available off-the-shelf from the firm's global engine line-up.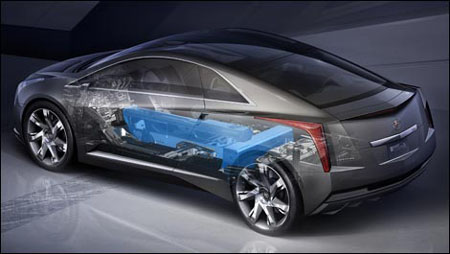 GM's two-door Cadillac Converj could be launched in 2011
Future generation Volts could well use smaller, more efficient engines - just like the 1.0L, three cylinder unit in FEV's Caliber ReEV.
On the subject of GM and its Voltec plug-in ER e-car propulsion system, it's also been rumoured that the Cadillac Converj two-door coupé has been approved for production. The car's planned launch date is sometime during 2011.
It's also rumoured that a seven seat Voltec-driven, but Buick badged, MPV – based on the Chevolet Orlando, which uses the same platform as the Volt – may also see the light of day, possibly during the same year.