Atrato adds SSD to its sealed arrays
Self-optimising software adds Skynet element to storage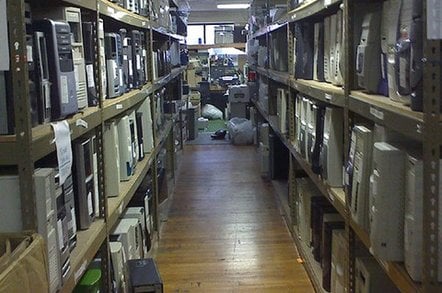 Atrato, which supplies Velocity1000 arrays using sealed canisters of 2.5-inch hard drives, is adding solid state drive (SSD) storage and self-optimising software for extra performance.
Atrato supports SSDs with either single-level cell (SLC) or multi-level cell (MLC) technology, or a combination of such SSDs. The SSDs can be supplied by multiple vendors and are available in different configurations. There can be up to eight within a controller (known as an '8-pack') with up to 1.2TB of capacity and a form of cache facility, or separate SSD expansion units, 1U in size and called JBOF (Just a Bunch of Flash) shelves. Each JBOF can hold ten SSDs and scale up to 1.6TB.
The 8-Pack Expansion Unit using SLC flash offers 80,000 IOPS at a 4k block size, and 800MB/sec read and write performance over a range of I/O request sizes (4k to 128k). The JBOF with SLC flash offers 100,000 IOPS at the 4k block size, and 1GB/sec read and write performance over the 4k-128k range of IO request sizes.
Atrato Virtualisation Software and its included ApplicationSmart software "intelligently and dynamically manage data between tiers, placing critical data in Tier 0 (SSD), and less accessed data in Tier 1 (HDD)."
Atrato says ApplicationSmart provides "a self-optimizing, block-level solution that recognizes data access information and determines where to best store and retrieve data based on observed access patterns. When performance is paramount, managing by statistical data, rather than time, content, or perceived value, AVS optimizes performance of the storage subsystem." This sounds similar to Compellent's automated tiering capability.
Steve Visconti, Atrato's president and CEO, said: "We transcend old models of application-aware storage that required extensive integration between the application, OS and HBA with a more relevant architecture that dynamically learns, adapts, and manages movement of data at the LBA (Logical Block Address) and block level."
Atrato's V1000 product is said to be autonomic - self-maintaining and self-healing, and needs no maintenance. It can scale to petabytes of capacity and is being used in markets such as video surveillance, entertainment, IPTV, VOD, Web 2.0 and HPC (High-Performance Computing). There are known to be about fifteen customers.
The new software and SSD support will be available in May. Pricing has not yet been revealed. ®
Sponsored: Minds Mastering Machines - Call for papers now open