Pink Floyd frontman backs McKinnon musical protest
Shine on you crazy diamond
A small group of protesters held a successful musical protest against attempts to extradite UFO enthusiast turned hacker Gary McKinnon to the US on Thursday.
Janis Sharp, McKinnon's mum, organised the sing-in protest outside the US embassy on Thursday to coincide with President Barack Obama's visit to London for the G20 conference and UN World Autism Awareness Day.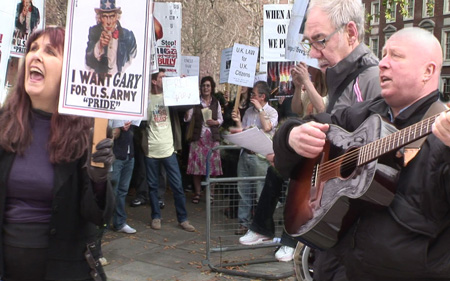 Janis Sharp, McKinnon's mum, is accompanied by musician/guitarist James Litherland in her rendition of "Chicago"
Sharp rewrote the lyrics (but not the tune) of Graham Nash's "Chicago" as a protest against long-running attempts to wrench her son over to the US to face trial and probable incarceration for hacking into US government and military systems. The protests also sought to highlight concerns with the lop-sided UK-US extradition treaty more generally.
These efforts gained a massive publicity boost when David Gilmour, legendary singer and guitarist with Pink Floyd, agreed to sing on the backing track of the song. Gilmour wasn't able to attend the event himself, but he did post a message of support for McKinnon on his website, adding his name to those who oppose McKinnon's extradition.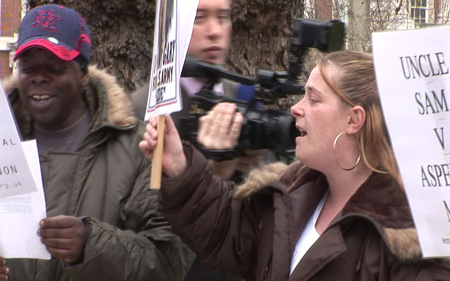 John Smith, London Rap artist, and his friend Olivia put a shout out for McKinnon.
Crank up the volume
Music has been a feature in McKinnon's long-running campaign against extradition. Celebrity supporters of McKinnon's include former Police frontman Sting and wife Trudie Styler.
Nash, famous as a member of Crosby, Stills, & Nash, gave permission for his song "Chicago" to be rewritten to reflect McKinnon's plight. He, along with Gilmour, also number themselves among McKinnon's supporters.
McKinnon's friends and family hope to produce a music track/compilation CD - involving some famous musicians - in support of Gary McKinnon's legal fight against extradition, the Free Gary support blog reports.
Other high-profile supporters outside the world of music include London mayor Boris Johnson, Lord Carlile, the independent reviewer of anti-terror laws, and former Beirut hostage Terry Waite.
The 'sit-in' musical protests took place two months before a judicial review on whether Home Secretary Jacqui Smith was correct to allow extradition proceedings against McKinnon to continue in spite of his recent diagnosis with Asperger's Syndrome. This hearing represents McKinnon's best hopes of avoiding extradition after the failure of earlier appeal to the House of Lords and elsewhere last year, prior to McKinnon's diagnosis with a mild form of autism. ®
Bootnote
A big Reg thank you to Janis Smith for use of the photographs. Janis and her husband Wilson are both musicians, which is why they came to live and work in London when Gary was a child. "Gary is a gentle musician but unfortunately that's not how he's portrayed in the media," she said.
Sponsored: How to Process, Wrangle, Analyze and Visualize your Data with Three Complementary Tools