Brits build e-car friendly solar parking bay
Ideal even for the land of rains?
'Leccy Tech British manufacturer of laminated photovoltaic solar panels Romag thinks it has the answer to all those people who can't help but bang on about electric cars not really being environmentally friendly because the power they use probably comes from a monstrous CO2 belching, Gia-strangling coal-fired power station.
Its answer? A solar carport than can generate juice for the EVs parked under it.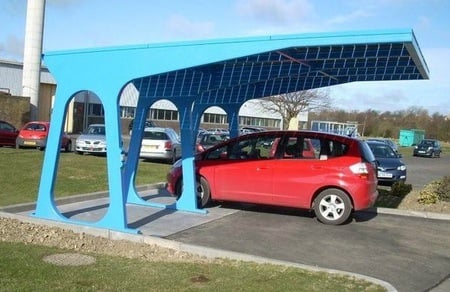 Romag's PowerPark: park'n'charge
Each PowerPark canopy can apparently generate 1.5kW of peak power in optimal conditions, and Romag estimates that even in the less sunny parts of the British Isles – so most of it then – each could generate up to 1100kWh of power over the course of a year.
The canopies are designed to be linked to the National Grid, so any power generated but not pumped into an e-car won't go to waste. Presumably, there's no reason why it couldn't be wired up to some sort of on-site storage that could then be used to fast-charge your Ampera or Tesla S.
At the moment the only PowerPark is at Romag's headquarters in Consett, County Durham but Kevin Webster, Romag's technical director told Wired that, "interest has been received from supermarket chains, schools, airports, train stations, hospitals [and] commercial office buildings in the UK, Middle East and Far East".
Of course, the idea isn't new. During the late 1990s, a handful of solar-powered charge stations where scattered about California to support the state's Zero Emission Vehicle ("ZEV") mandate.
No prices have been announced but Romag have said the PowerPark will be available individually for private purchasers. ®
Sponsored: What next after Netezza?