Motorola Aura
Worth the £1250 asking price?
Review It's a moot point whether releasing an unashamedly style-led handset costing over a grand - yes, more than one thousand of your Earth poundingtons - at the present time is recession busting - or recession baiting. The kind of cash that's required to trouser this high-end, low-spec phone could well engender the sort of spending that will offset the credit crunch. Or it might just fuel the bonfire of toxic debt that has already brought us to this pretty pass.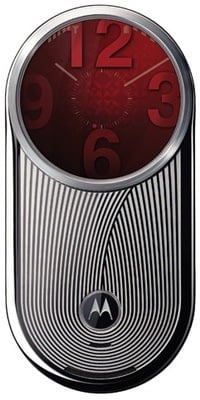 Motorola's Aura: the return of artistry, apparently
And by releasing it now is Motorola showing a canny insight into market trends, or blindly forging ahead with a decision that was probably made a couple of years ago, and must continue simply because it can't conceive of any alternative?
While Motorola is hailing the Aura as a breakthrough in phone styling, the design isn't really new, strictly speaking. Phone fans with long memories may recall Motorola's V70 which debuted in the last century and featured a circular screen and a similar swivel action to access the keypad.
Besides the unusual look, the V70 was pretty much a bog-standard handset and, ten years later, so is the Aura. It's quad-band GSM/GPRS/Edge, but there's no 3G, no Wi-Fi and only a 2Mp camera – nothing to detain tech-heads in other words.
But can there be method in Motorola's apparent madness? The Aura is undoubtedly a looker, thanks to its uniquely eye-catching screen. And it includes some very high-end components such as a polished stainless steel casing, which takes nearly two weeks to sculpt, etch and polish, apparently.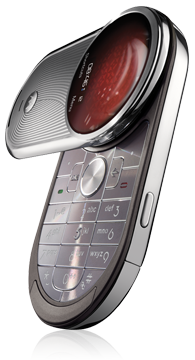 Razr-sharp keyboard
It's held together with nickel chrome-plated screws and includes a hardened steel gear mechanism for the swivel action too. This is a phone that's clearly built to last, and if you value a handset that will see you through the years in style, immune to the latest nips and tucks of technology, Motorola might just have something here.