Detroit does mass-market e-car deal with Proton
Made in Malaysia, sold in Europe
'Leccy Tech The Detroit Electric Car Company has announced that it is to develop a range of electric vehicles by grafting its own 'leccy car drive trains onto existing models from Malaysian manufacturer Proton.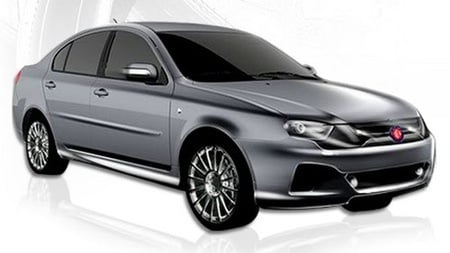 The Detroit Electric Car Company's e63: Proton made
The plan is to develop two models, one called the e46 that will have a range of 180km (111 miles) for city and suburban use, and another called the e63 that will be available in two versions: one with the same range as the e46 and another that will have a range for 325km (200 miles) for extra-urban use.
The two models appear to be based on Proton's Gen-2 platform - the e46 on the hatchback version, the e63 on the four-door saloon version – but with a little restyling.
According to the technical specifications, the e63 will be available with either a 25 or a 40kWh lithium-ion polymer battery pack powering an electric motor with a 75kW (100bhp) power output. The e45 will only be available with the smaller of the two battery packs. Both vehicles are said to be capable of making the 0-60 dash in under eight seconds and have a top speed of 112mph.
The cars will be built in Malaysia by Proton using electric motors supplied by Detroit Electric and battery cells supplied by an as-yet-unnamed Korean manufacturer - though LG Chem would our bet. Detroit Electric also announced that it plans to set up an impressive sounding "Advanced Propulsion Lab and Manufacturing Plant" near the the Proton factory.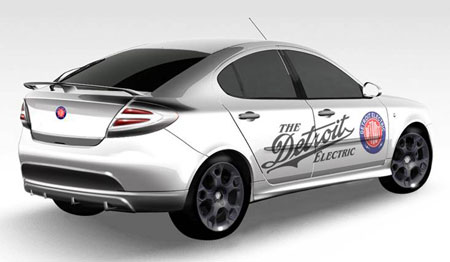 e46: hatchback version
The agreement is presumably seen as rather significant by the Malaysians since the deal was signed in the presence of Prime Minister Datuk Seri Abdullah Ahmad Badawi. Proton is to all intents and purposes state-owned and is also the current owner of Lotus, which builds the Tesla Roadster.
If all goes according to plan, the cars will be launched in Europe and China in Q1 2010 and in the US around six months later. One obvious benefit of getting into bed with Proton will be access to a ready made dealer network should the need arise.
Detroit Electric say it plans on building 40,000 EVs in the first 12 months of production and that the vehicles are expected to be priced at between $23,000 (£16,000) and $26,000 (£18,200) for the e46, and at between $28,000 (£19,600) and $33,000 (£23,000) for the e63 model. Those prices suggest that the e46, like the e63, will actually be available with a choice of battery packs. We shall see.
This Detroit Electric Car Company has nothing to do with the one that built the 'leccy cars owned by the likes of Thomas Edison and John D. Rockefeller, Jr. That went tits up in February 1939.
In its new guise, the company was founded in 2008 by the China Youngman Automotive Group and its CEO, Albert Lam - himself one-time boss at Lotus. It has nothing at all to do with Detroit, Michigan - its engineering centre is in the Netherlands. ®
Sponsored: Becoming a Pragmatic Security Leader