Reg Hardware's April Fool's Day round-up
Nine fakes and one real. Can you see what it is yet?
So April Fool's Day is upon us once more and the web's full of stories about talking fish, invisible cars and a fruit that sits somewhere between a banana and a pineapple (thanks, Waitrose).
But, instead of trying to fool you with news that Apple today gave away 1000 free iPhone 4G phones to passing punters, Register Hardware decided to round-up ten of the best April Fool jokes from the world of tech - with a twist.
"With a twist, you say?" Yes, hidden among our gallery of gags is one real story - can you spot truth from fiction?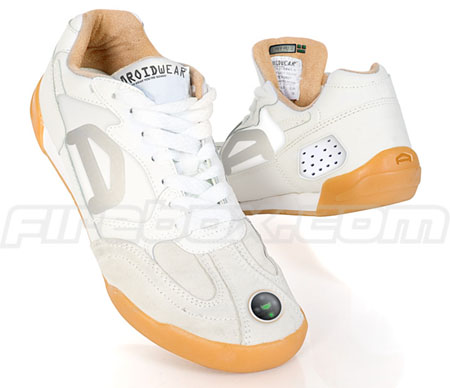 The Satnav Shoe: 'Walk this way,' it'll say
First up, online retailer Firebox has launched a pair of Satnav Shoes. Under the left shoe's tongue is a control unit where you enter your starting and destination postcodes, after which a small display tells you which way to walk.
Not into walking? Then how about controlling your car using an iPod Touch? One geek has developed a Touch application that he's claimed can be used to lock and unlock the doors on his Mazda car. The app can also start and stop the car's engine and open the boot.
Can't see the video? Download Flash Player from Adobe.com
A useful telemetry screen within the app shows all vital data, such as fuel, battery and RPM. GPS also enables the car's location to be tracked from anywhere in the world – handy if you live in a dodgy neighbourhood.
Alternatively, just sit back and stuff your face, literally. Pizza Hut's online ordering system now allows you to upload a photo of yourself for display on a freshly cooked pizza. Pure four-cheese genius!
You'd better hurry up and place your order though, or you won't have enough light to eat the pizza in – if EU legislators get their way.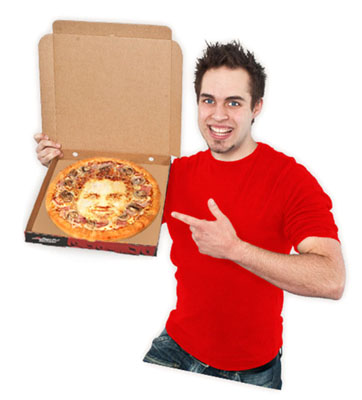 Put your face on a Pizza Hut pie
Because website Business Green reported that legislators in Brussels are considering imposing a ban on all light bulbs as an energy-saving measure. Lighting SWAT teams could be created that would confiscate bulbs consistently left on overnight, or every second light bulb in a building may be impounded.
How many politicians does it take to ban a light bulb?
It was also reported – by website Marketing Magazine – that a pair of advert-free glasses have been invented to help rid your eyes of Coca-Cola signs and such.
Based on established Optical Limitation Option Filter technology, Prail Technologies' ad-blocker specs contain a chip able to recognise advertising messages and then remove them from a person's line of sight.
You'd probably be so amazed that you'd just have to phone someone about them, so thank your lucky stars that Qualcomm has begun using the scourge of London – Pigeons – to boost phone reception.
The chip giant's started implanting small base stations into thousands of birds to form a 'dynamic network' that would overcome the problem of patchy mobile reception.
The service could well prove expensive – well, someone has to feed all those pigeons... So it's great news that a truly pay-as-you-go mobile's finally been invented as an alternative to contract handsets.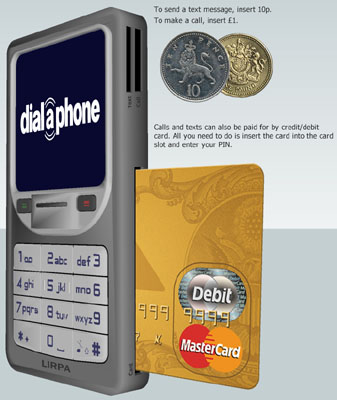 No coins for a call? Then swipe your credit card
Dial-a-phone's begun talking up a handset with integrated slots for coins and credit cards, enabling you to pay for calls as and when you make them. A coin-operated mobile would surely weigh your phone down, but swiping your credit card to make a call sounds handy.
If you're not tempted by pay-as-you-go, then how about a joint O2/Vodafone mobile able to automatically latch onto the best tariff available from either network provider?
Avril Phoel, a spokeswoman for the joint venture, told website Mobile News that the new VO2 Twin Phone will come with a dual keypad and a split-screen, so each operator can embed its own firmware and unique features.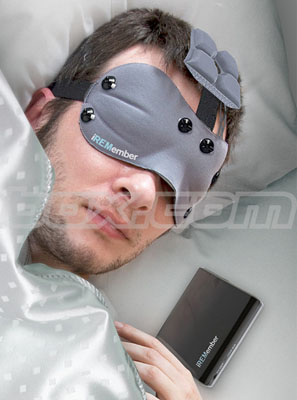 iREMember Dream Recorder captures and plays back your dreams
Last, but not least, is the iREMember Dream Recorder. It records your dreams so you can watch them back on your HD set the morning after.
Firebox said that the gadget wirelessly syncs to its accompanying headgear and automatically starts recording when you doze off. Your dream video can then be copied to your PC or Mac though USB, enabling you to watch it back pretty much anywhere – even while still in bed. ®