Acer Nvidia Ion-based nettop revealed on web
Hornet picture and specs emerge online
Acer is prepping a nettop system based on Nvidia's Ion platform, according to Taiwanese reports.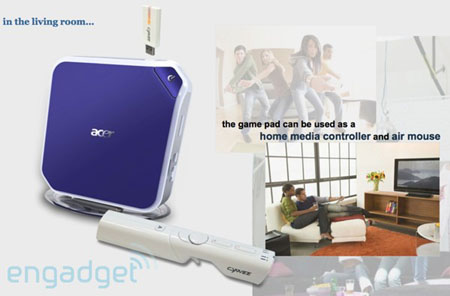 Acer's Hornet: Ion driven
Unnamed industry sources told the website Digitimes that Acer will officially unveil the machine – known as Hornet – on 8 April in Beijing. Its price is rumoured to start at below $300 (£208/€227).
Hornet is likely to be the first machine on the market with Ion inside, which Nvidia describes as combination of the GeForce 9400 integrated chipset and Intel's Atom CPU.
Nvidia has already claimed that the GeForce 9400 "delivers up to ten times the graphics performance" of existing integrated chipsets paired with Atom. So it's no surprise that Acer will also reportedly bundle a motion-sensing gaming controller - shown above - with Hornet.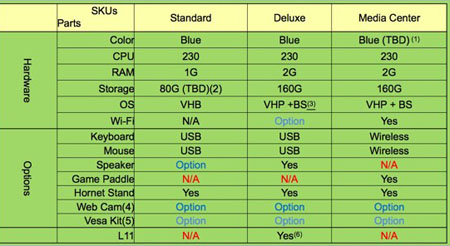 Could these be Hornet's official specs?
A Hornet SKU guide has also been published by Engadget, which refers to three Hornet models: Standard, Deluxe and Media Center.
Each machine comes pre-loaded with Windows Vista. The Deluxe and Media Center models also come with "Box Shell" - a Linux-based fast-boot light OS for quick access to the web and media files, we guess.
All three blue-bodied machines are based on the 1.6GHz Atom 230 desktop CPU and come with 1-2GB of memory. The Deluxe and Media Center will each have a 160GB hard drive, while the Standard will make do with 80GB – although this could change.
Wi-Fi connectivity will only come as standard on the Media Center machine, while wireless web will be optional on the Deluxe Hornet and "N/A" on the Standard.
A webcam will be optional for all three Hornet models and the Wii-esque motion sensing controller may only be supplied with the Media Center model – according to the SKU sheet. ®