Canon i-Sensys LBP3100
Cheap and better than cheerful
We're so used to manufacturer's speed claims being wildly outlandish that it came as something of a shock when we tested the LBP3100. Canon claims a top print speed of 16ppm, and a five-page text print completed in 26 seconds. This is mainly due to a very fast first page out and is equivalent to 11.5ppm, in real terms – that is, including processing time and printing in normal print mode.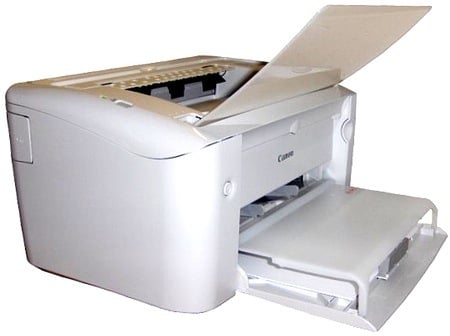 There's a multipurpose feed above the paper tray – unusual in this class of printer
When we tried a 20-page text print, where processing time represents a smaller percentage of the total print time, the speed went up to 15.2ppm, very close to Canon's headline figure. A 15 x 10cm photo print took just 15 seconds to complete.
These speeds are very impressive for an entry-level laser printer and we've seen slower machines under test, whose manufacturers claim higher speeds for them than Canon does - and ask higher prices as a consequence. One of the reasons for the LBP3100's speed is that it takes very little warm-up time and its "instant-on" fuser is pretty much that. By the time the first page has been rasterised, the engine is ready to print.
Perhaps it's because Canon has been less enthusiastic in talking up the speeds of its printers, that it's the first company we've seen to adopt the new ISO 24734/35 speed test standard in its literature, which should bring all speed claims down to Earth with a bang.
There's not much point in producing pages quickly, of course, if their quality is questionable. In general, that's not the case here. Black text is dense and clean cut, with no signs of toner spatter or other artefacts which would spoil the effect.
Things aren't quite so good with greyscales. Although they're reproduced well, with no signs of banding, there isn't enough differentiation between different tones. Our test page includes business graphics using colours which have a good greyscale differential, but these were sometimes hard to distinguish on the prints from the LBP3100.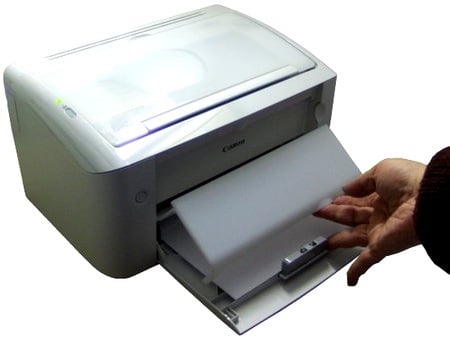 The paper-tray cover folds out when the front cover's opened
Our sample photo print, reproduced at the machine's highest resolution, 600dpi enhanced up to an effective 2400 x 600dpi in software, still showed a noticeable dot pattern in areas of sky, with some shadow detail also lost. Foreground detail in bright light is good and the overall results are reasonable for a mono laser at this price.