Olympus welcomes in the E-450 DSLR
Waves goodbye to the E-420
Olympus has replaced its E-420 digital SLR camera with a shooter that's supposedly a fusion of DSLR and compact, and able to bring out the artist in anyone.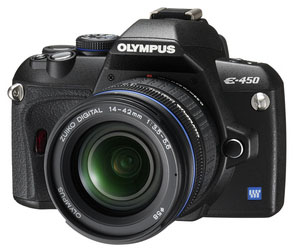 Olympus' E-450: arty images at the touch of a button, apparently
Despite still offering the same number of megapixels as its predecessor – 10Mp, to be exact - the E-450 supports three art filters: "Pop Art", "Soft Focus" and "Pin Hole". Olympus claimed these will let you add stylish effects to images at the touch of a button.
Pop Art, for example, seeks to infuse photographs with rich shades that result in a livelier and more dynamic photo, Olympus claimed.

The 2.7in LCD is no larger than that of the E-450's predecessor
ISO sensitivity tops out at 1600, while the camera can snap up to 3.5f/s at top speed. It's also equipped with 28 pre-set image modes and a "Perfect Shot Preview" setting that will let you see how the various settings will modify the shot, before you press the shutter button.
Dust is kept at bay with what Olympus calls a Supersonic Wave Filter. The camera measures roughly 130 x 91 x 53mm and weighs in at 380g.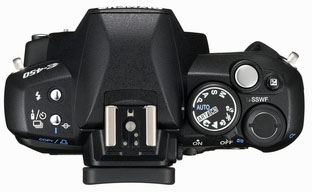 The user can control wireless flash units remotely
Olympus will release the E-450 during May as a body-only set, or bundled with a choice of 14-42mm 1:3.5-5.6 lens or 40-150mm 1:4.0-5.6 lens in a single kit. Prices haven't been disclosed. ®