Cosmonaut bemoans ISS toilet row
Can't use apparently non-existent deluxe US space dunny
Cosmonaut Gennady Padalka has bemoaned an increasingly petty US-Russian spat in which politics apparently threaten the brotherly co-operation which has hitherto marked life aboard the International Space Station.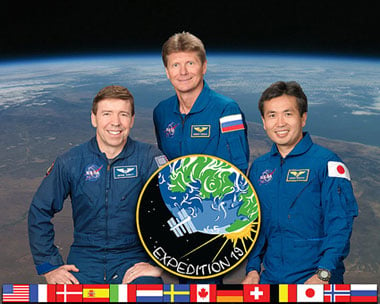 Padalka (pictured centre with NASA astronaut Michael Barratt, left, and Japan Aerospace Exploration Agency astronaut Koichi Wakata), is currently on the orbiting outpost as part of Expedition 19, which blasted off last Thursday from Baikonur Cosmodrome.
Before leaving, he reportedly told the Novaya Gazeta that, since 2005 when space missions were put on a commercial footing and the Russians starting billing US astronauts for its services, the Americans have responded by an increasingly isolationist stance on their own facilities.
Specifically, Padalka claimed officials had "rejected his request to work out on the American exercise bike". He said: "They told me: 'Yes, you can'. Then they said 'no'. Then they hold consultations and they approve it again. And now, right before the flight, it turns out again that the answer is negative."
Worse still, Padalka said that American and Russian crew members had been told to use their own 'national toilets'. Various news reports have picked up on this aspect of the row, with some suggesting cosmonauts will not be able to relieve themselves in the Americans' deluxe "astro-loo", as one paper put it.*
This could actually prove rather more tricky for US crew aboard the ISS, since the orbiting outpost's Ассенизационно-Санитарная Установка, or "Waste Management System", is actually a Russian-built affair housed in the Zvezda module.
Presumably, the deluxe American dunny in question is the one NASA stumped $19m for back in 2007 - another Russian-built device similar to that already on board. This toilet is, however, destined to be housed on American territory - the Node 3 module slated to arrive aloft aboard Endeavour on STS-130 mission, provisionally booked for lift-off on 10 December this year.
It's unlikely, however, that Padalka and his comrades will force astronauts to either go outside for a leak or resort to nappies pending the arrival of a second facility. He said: "Cosmonauts are above the ongoing squabble, no matter what officials decide. We are grown-up, well-educated and good-mannered people and can use our own brains to create normal relationship."
He concluded: "It's politicians and bureaucrats who can't reach agreement, not us cosmonauts and astronauts." ®
Bootnote
* It's possible that this is referring to NASA's extremely expensive and bothersome urine recycling machine. Exact details of who's currently allowed to take a slash where have proved elusive, although a ban on cosmonauts providing the raw material for much-needed drinking water when the ISS crew is expanded to six is, frankly, highly unlikely.
Sponsored: Becoming a Pragmatic Security Leader