Dell gives birth to octuplet Inspiron colours
All the colours of the rainbow?
Dell has brought a splash of colour to the desktop with its launch of eight brightly hued Inspiron PCs.

Dell's Inspiron range: 'Red and orange and pink and green...'
Pretty much every colour of the rainbow is available, including "Piano Black", "Pure White", "True Blue", "Formula Red", "Tangerine Orange", "Spring Green", "Plum Purple" and "Promise Pink". "Gun Metal Grey" would have been a cool option, though.
The Inspiron PCs will initially be available in China, but online reports have claimed that Dell will roll the colourful range out worldwide later this year.
Available with a choice of Intel Celeron, Core 2 Duo, Core 2 Quad, AMD Sempron, Athlon X2 or Phenom X4 processor, the machines can also be fitted with up to 8GB of memory.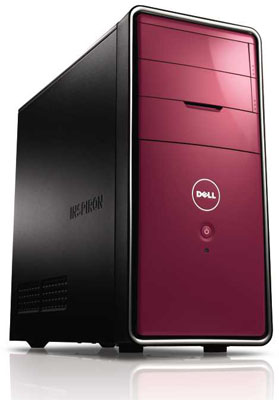 Users can choose between various Intel and AMD processors
You'll be able to choose between a "slim tower" or "mini tower" design, which will restrict you to either 750GB or 1TB of storage space, respectively. Mini-tower buyers will also have the option of adding in a Blu-ray drive.
Each machine will have a 19-in-1 media card reader, six USB ports – two of which are front mounted - and the option to slot in an HMDI port.
UK prices haven't been announced yet. ®