Honda creates thought-controlled android
Asimo gets smarter
Remember Asimo, Honda's stair-climbing android? It's back and this time the robot can be controlled by human thoughts.
Can't see the video? Download Flash Player from Adobe.com
Collaboration between Honda's Research Institute of Japan, Advanced Telecommunications Research Institute International and the Shimadzu Corporation has resulted in what's claimed to be the world's first Brain Machine Interface (BMI) technology able to steer a robot by thought alone.
By placing sensors that measure "slight electrical current and blood flow changes" onto someone's head, the team was able to make Asimo perform physical movements that had only been thought about by the sensor-clad human.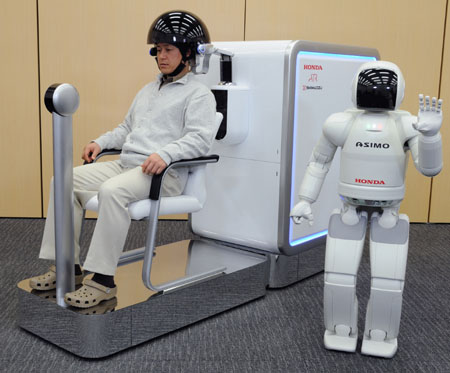 Sensors on the man's head tell Asimo how to move
A "newly developed information extraction technology" then enables statistical processing of data gathered by the two sensor technologies, effectively translating thoughts into control signals for the robot's motors.
The trio claimed the BMI technology is roughly 90 per cent accurate.

The thought process that controls Asimo
Honda and co. now plan to further develop the BMI technology for application to human-friendly products. ®