Western Digital snaps up SiliconSystems
Flash for cash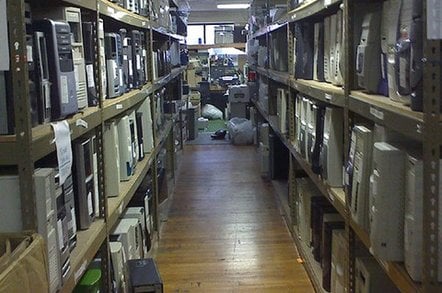 Western Digital is buying solid state disk supplier SiliconSystems for $65m in cash, and will supply SSDs to the netbook, notebook and enterprise markets.
While saying it is open to supplying SSD products alongside its existing hard disk drive products, Western Digital - the world's number 2 supplier of hard drives - has not formally said it will enter the SSD market. It is in there now and with shipping products, leaving competitor Seagate some way behind.
SiliconSystems is headquartered in Aliso Viejo, California, and has offices in the EMEA and Asia-Pacific regions. It develops and ships SSDs for what it calls the enterprise OEM market, meaning network communications, industrial, embedded computing, data centre, aero-space, military and medical markets. Its SiliconDrive and SiliconDrive Blade product portfolio includes SSDs with SATA, EIDE, PC Card, USB and CF interfaces in 2.5-inch, 1.8-inch, CF and other form factors.
The lack of SAS and Fibre Channel interfaces immediately stands out. PCIe is another interface that doesn't feature in the list.
SiliconSystems has developed LifeEST and SiSMART to measure and calculate how long an SSD will last. LifeEST is the industry's first endurance calculation methodology that's independent of how an SSD is used. SiSMART is patented technology that actively monitors SSD performance and measures usage in real time. They work together to determine an SSD's useable life.
WD CEO John Coyne said: "The combination will be modestly accretive to revenue and margins... SiliconSystems' intellectual property and technical expertise will significantly accelerate WD's solid-state drive development programs for the netbook, client and enterprise markets, providing greater choice for our customers to satisfy all their storage requirements."
SiliconSystems will be known as the WD Solid-State Storage business unit, and complement WD's Branded Products, Client Storage, Consumer Storage and Enterprise Storage units. Michael Hajeck, a founder and the CEO of SiliconSystems, becomes SVP and general manager of WD's Solid-State Storage business unit. He said the acquisition by WD "will enable us to develop new solid-state drives to broaden our overall product portfolio and address the emerging applications for solid-state storage in WD's existing customer base".
SiliconSystems has not featured as a supplier in recent flash drive announcements by enterprise storage and server vendors or by most netbook vendors. WD, with its well-oiled channels, will be intending to change that. ®
Sponsored: How to Process, Wrangle, Analyze and Visualize your Data with Three Complementary Tools