The tiny 0.8W speaker is of higher quality than is usually the case on devices of this ilk and the P3 also comes with something called a "Vibe Woofer". No, that doesn't involve your girlfriend, a Labrador and a Rampant Rabbit, but is rather a system that uses the haptic feedback generator to cause the P3 to... ahem... throb and pulse in time to the video's audio track.
To briefly round up other things the P3 does and doesn't do: it doesn't support gapless playback, it doesn't have a memory expansion slot of any kind and - more surprisingly – doesn't support playlists loaded from MTP media players. While it does let you set up six playlists on board the player, the lack of MTP playlist synchronisation is a major drawback on a machine on this type, if you ask us.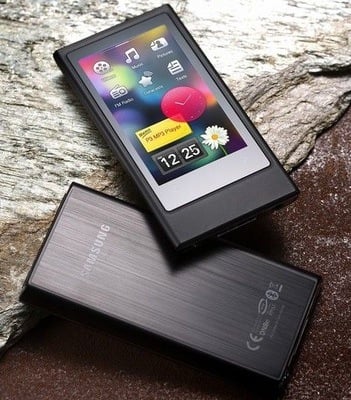 Solid as a rock?
In the 'plus' column, you get maps for most of the world's underground railway networks complete with handy illustrated Points-of-Interest details; an address book; calculator; calendar; alarm clock and support for podcasts/datacasts, though the last need to be loaded onto the P3 via EmoDio.
Samsung reckon the P3's 610mAh battery is good for 30 hours of music playback and five of video. The best we managed was 24 hours of music and 3.5 of video which is solid rather than spectacular. By using a less power hungry OLED screen, Cowon gets well over twice the video playback time from an S9.
The 8GB P3 can be found for around the £110, the 16GB version for £150. That makes it considerably better value than the P2 was at time of launch in terms of cost per gigabyte. It also compares favourably with Apple's 8GB iPod Touch and Cowon's 8GB S9, which will set you back £165 and £169, respectively.
Price aside, though, the Cowon is the better video player by dint of its superior colour palette and larger, 3.3in OLED screen, while the Touch comes with Wi-Fi, a top-notch web browser and an even larger, 3.5in screen though admittedly significantly poorer sound quality. But if it's a music rather than video player you're after - and you can live without Ogg and Flac support - it's hard to ignore Sony's 16GB S639F Walkman, which can be picked up for around the £120 mark.
Verdict
Imagine a Samsung P2 with the GUI from the Omnia phone and better codec support, and you have the P3. That's not really a massive leap forward, though, and while the UI looks better than the P2's, it suffers from many of the same basic problems in use. Lacking a web browser and Wi-Fi, the P3 isn't going to keep Apple awake at night. Despite having H.264 file support, the P3 isn't as good a pocket video player as Cowon's S9 is. ®
More Media Player Reviews...

Philips GoGear Spark

iRiver Spinn

Cowon iAudio O2

MP3 player head-to-head
Samsung U4 vs Sony B135F
Sponsored: Practical tips for Office 365 tenant-to-tenant migration

Samsung P3
A solid rather than spectacular update of an already capable device, the P3 is a fine-sounding music player, but the touch screen UI still needs work.
Price:
£110 (8GB) £150 (16GB) RRP