Discovery back on terra firma
Shuttle safely home
Space shuttle Discovery landed (see pic) this evening at Kennedy Space Centre marking the end of its STS-119 mission to the ISS.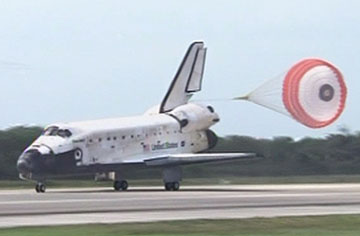 Returning to Earth were commander Lee Archambault, pilot Tony Antonelli, mission specialists Joseph Acaba, John Phillips, Steve Swanson, Richard Arnold plus former ISS resident Sandy Magnus.
The mission delivered the final solar panels to the International Space Station, ahead of the planned increase of the orbiting outpost's manifest to permanent crew of six.
Aloft, meanwhile, is space tourist Charles Simonyi, who blasted off on Mission 19 from the Baikonur Cosmodrome in Kazakhstan on Thursday.
He'll return to Earth on 7 April with Expedition 18 crew commander Mike Fincke and flight engineer Yury Lonchakov in the Soyuz TMA-13 capsule, having made his mark as the only amateur to do two stints aloft. ®
Sponsored: How to Process, Wrangle, Analyze and Visualize your Data with Three Complementary Tools