Otellini: 'I'd rather have Sun be independent'
Join the club, Intel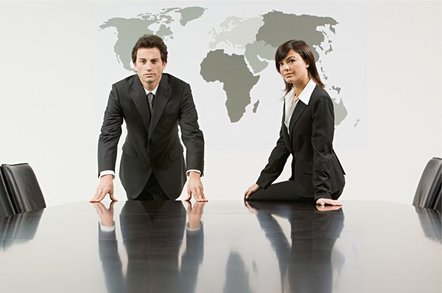 Another IT head honcho has put his two cents out there about the rumored acquisition of Sun Microsystems by rival IBM.
This time, it is Paul Otellini, president and chief executive officer at Intel, who was speaking to company employees earlier this week about freezing the salaries of its highest paid workers and repricing the stock options for employees that are underwater thanks to the economic meltdown and the ensuing decline on Wall Street.
A transcript of the meeting with employees was filed with the Securities and Exchange Commission, and at the end of that meeting, someone in the audience (identified only as Male Voice) asked this: "What do you think of rumors for IBM acquiring Sun? Good for us? Did Cisco entry spur IBM?"
This is what Otellini had to say.
"Oh, I don't know if the Cisco entry spurred IBM. I think [the] cheap Sun price - a low price - spurred a lot of interest. I can tell you that Sun was shopped around the Valley and around the world in the last few months. A lot of companies got calls or visits on buying some or all the assets of the company. It looks like IBM is in the hunt now. And at a hundred and some odd percent premium, I suspect they'll get it."
Instead of leaving it at that, Otellini elaborated a bit.
"I don't think it had anything to do with Cisco. I think IBM is trying to consolidate architectures. IBM has the strongest Java license in the industry. By picking up Sun, which is the creator of Java, they really consolidate their position not just in Linux, but also in Java."
So this is more about Java than anything else? What about that Solaris installed base, and those Sparc servers?
"I think the stuff on Solaris and Sparc is likely to see EOLs [end of lives] over time through the IBM acquisition," Otellini continued. "But [there is] no strategic reason for IBM to maintain that except to attempt to convert the very large Sun Sparc/Solaris base to Power. I think that would be their most likely strategy as part of this."
That certainly was my thinking when I mulled over the IBM-Sun deal. But moving Sun customers to Power Systems would require a genuine effort on the part of IBM to make the "Polaris" port of OpenSolaris real, to get customers to recompile Solaris applications on a new architecture (not something Sun had a lot of luck with so far), or to use the QuickTransit emulation secret sauce (which Sun itself licensed from Transitive to do Sparc-to-x64 application supports before IBM bought the company last November).
So is Intel happy about the prospect of IBM buying Sun? It sure doesn't sound like it.
"Is it good or bad for us?" Otellini asked rhetorically. "I don't know. I'd rather have Sun be independent, I guess."
I guess so, too. ®