Eastern game guru seeks Western know-how
Design meets software
GDC 09 Acclaimed game designer Hideo Kojima says he's recruiting Western developers to add their software specialization expertise to the next entry in the Metal Gear series.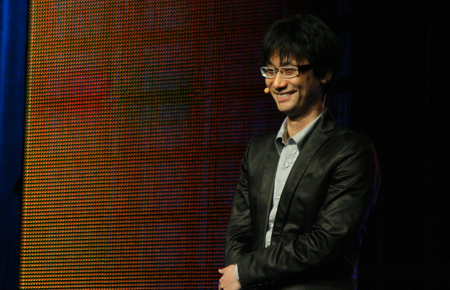 With his keynote speech at the Game Developers Conference in San Francisco, Kojima told gathered gamers he wants to blend a Western "software-driven" approach to the "designer-driven" philosophy more popular in Japan.
The game maker said that like much of the game industry, Metal Gear was born and has evolved from hardware limitations. Traditionally, he's put a major emphasis on game design to overcome these barriers.
For example, back in 1985 when Kojima was making games for the MSX2 home computer/console, he was asked to make a combat game to ride a wave of popularity in the genre thanks to Rambo: First Blood Part II.
The basic requirements for a game like that, Kojima recalled, would be to have a player character, at least four enemies, and bullets for player and enemies to exchange. Unfortunately, the MSX2 had some pretty series hardware limitations, such as it would only allow eight sprites to be horizontal with each other at the same time. Adding more than one color to a character required another sprite to be laid on top of the first. In short, the task seemed impossible.
"That was a real tough time," Kojima said through a translator.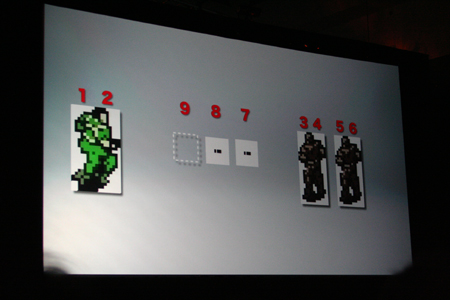 His solution was to overcome the hardware barrier with game design. Instead of a "combat game," he could make it a less action-oriented game of infiltration and hiding from enemies. Thus, Metal Gear and the stealth genre was born.
The game was a hit, and understandably, they wanted to make a sequel. Kojima said his initial goal for Metal Gear Solid 2 was to make a stealth game on the next gaming platform that surpasses the previous creation. Difficulty: there wasn't a next game platform yet.
His solution once again was to get around hardware limitations with creative game design. The mission changed to creating a deeper stealth game that uses the same hardware.
Enemy field of view was changed from a straight line to a more realistic method of fanning out. Their movement also occurred off-screen, so players needed to think both about what they could see and what they couldn't. Kojima also implemented a new level of enemy AI, so even after enemies lose sight of the player, they'd keep checking things out so the player would need to keep hiding and stay still.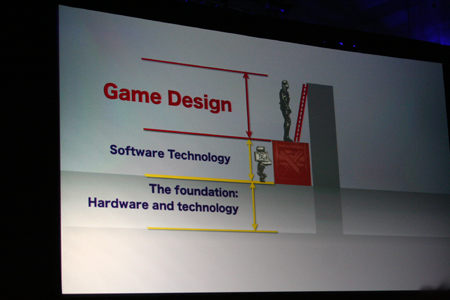 Kojima outlined how hardware limitations made him re-think game design in each of the Metal Gear entries. He illustrated the problem as a "barrier of impossibility" that Solid Snake must climb over. The foundation (or ground) is the hardware and technology the game is being made for. Software technology is a tool for getting over the wall, but his main focus is overcoming the challenge with game design.
"The current trend is a little different," Kojima said. "There's a recent trend in Western game design more reliant on software technology."
He claims the trend of using technology itself to overcome hurtles has recently become popular with American and European game studios.
"I want to challenge this wall of impossibility with everyone in the crowd today," he said. "Especially for American and European game designers who specialize in software technology."
He said his studio Kojima Productions is recruiting folks who want to take on the challenge.
"Before giving up and saying 'I can't do it,' identify the impossible barrier that his holding you back," he said.
The game maker ended with a quote of his splashed along the screen reading, "90% of what is considered 'impossible' is, in fact possible. The other 10% will become possible with the passage of time & technology." ®