Isle of Man e-bike trial loses racers
How many TTxGP teams will actually take part?
'Leccy Tech Will the Isle of Man TTxGP zero-emission motorcycle race, due to be run on 12 June, have more than two electric bikes on the starting line?
Here's one that won't be there. Designed by long-time champion of feet-forward motorcycles, Royce Creasey, this 'leccy racer was created to take full advantage of the TTxGP's decision to partially relax the 1956 ban on streamlining: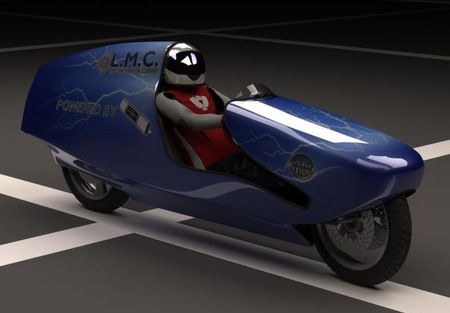 Creasey's would-be TTxGP entry
Sad to say, at the end of October 2008, the money did a runner, leaving Creasey with nothing but his dreams and this CGI mock-up that was created to drum up sponsor interest. Still, as he stoically remarks: "That's motor racing."
Before the plug was pulled, the bike's specification apparently included a lithium-ion phosphate battery pack weighing in at 150kg driving an Lynch Motor Company twin-rotor motor. This set-up had been tuned to develop 15kWh of energy giving a range of just over 37 miles with the aid of regenerative braking.
Creasey reckons the finished article would have weighed close to the allowed maximum of 300kg but would still have been fully rideable.
As Creasey notes the similar looking if fully-faired NSU "flying hammocks" of the mid 1950s managed to hit 240mph with 40bhp on tap, so he fully expected his machine to hit 200mph in several places along the TT course.
So, with a little over two months to go the line up for the TTxGP includes the Brammo Enertia and the Mission One and... er... that's it. The TTx01 us now definitely out of the running despite having covered the course back in February to "test the viability of machines on the Mountain Course".
To be fair, another entrant is apparently the EV0-RR from a company called Evo Design Solutions but since all we can discover about it is an admittedly rather impressive looking artist's rendering, we aren't betting the farm on it showing up to the start line on 12 June.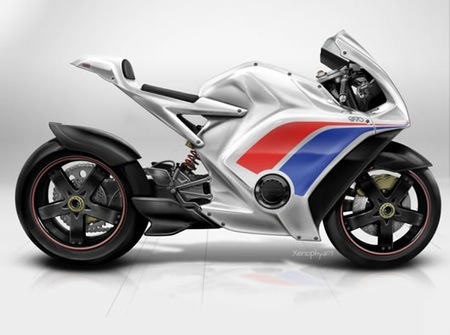 Evo Design's EV0-RR
According to a recent press statement by TTxGP, 18 teams "from all over the world, including the US, India, Austria, Germany, Australia and the UK have already registered, and further teams are expected to confirm before the 31 March deadline".
Reg Hardware has been told that come 8 April an announcement giving details of all the teams taking part will be made, so hopefully that list of confirmed entrants will get a little longer and a little more detailed. ®