Altec Lansing Octiv Air wireless iPod speaker system
Tunes throughout your house
Review iPod speaker systems have come on a-ways of late, with units such as Edifier's Luna 5 and B&W's Zeppelin both looking and the sounding the part of serious home audio kit. With wireless music networking being the other Big Idea at the moment it was only a matter time before somebody put the two together and came up with something like Altec Lansing's Octiv Air wireless speaker system.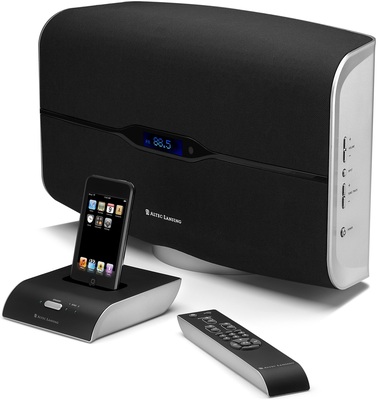 Altec Lansing's Octiv Air: music through the ether
The Air consists of a reasonably attractive and weighty – 4.8kg, so you won't want to drop it on your foot or the cat - 57 x 115 x 255mm wireless speaker unit and a small – 120 x 132 x 31mm - iPod dock. To work, both units need to be plugged into mains power.
Altec has always had a reputation for reasonably well made kit, and the Air is no exception. Both units feel solid and well screwed together, and lack any rough edges. The speaker unit isn't as attractive as the Luna 5, in our opinion, but neither will it have the other half yelling about 'not having that in here'.
If the Air has a design failing, it's the 60 x 15mm LED display in the middle of the speaker unit. It's simply not bright enough, making it a little difficult to read in even moderate or indirect sunlight.
Set-up is simple bordering on the non-existent. Just plug the two units in, plonk your iPod on the dock, hit the Standby button, press Play and - bingo - music comes out of the speaker unit no matter where it is. If you want to move the speaker to another location in the house, just unplug it, move it, and plug it back in.
On the subject of iPods and the like, Altec told Register Hardware that the Air is not officially iPhone compliant - the speakers will pick up the usual interference from the handset's cellular radio - so it suggests putting the phone into Flight Mode before hooking it up.
The speaker unit comes with a solid stand attached to it but this can be unscrewed so you can mount the unit on a wall using the supplied bracket. A switch around back can be moved between Shelf and Wall to optimise the units performance depending on your choice of location.

The display's basic - and a bit dim
So far, so simple, but the Air has a trick up its sleeve: its ability to drive multiple wireless speaker units, eight in total.
Sponsored: Detecting cyber attacks as a small to medium business