EMC saves earth from its own private jets
Red faces over green goals
Opinion EMC demonstrated the inherent complexities of saving the planet as it began sponsoring a greenhouse gas supply chain initiative this week, just months after CEO Joe Tucci had a good look at the atmosphere from the comfort of a corporate jet.
EMC is helping to pay for World Resources Institute's Greenhouse Gas (GHG) Protocol Product and Supply Chain Initiative, a joint effort with the World Business Council on Sustainable Development, it has emerged.
This greenhouse gas project will provide businesses with a methodology for measuring emissions throughout product value chains; identifying the greatest emission-reduction opportunities; and making sustainable business decisions about the products they produce. EMC will also participate in one of the technical working groups developing the new GHG Protocol product life cycle standard.
EMC's statement said: "EMC recognises that customers are striving to reduce their greenhouse gas emissions and improve energy efficiency in the datacentre and throughout their business."
David Rich of the World Resources Institute, said: "With the support and contributions of participants from around the world, such as EMC, we are creating a common, standardised approach for companies to inventory, analyse, and manage GHG emissions throughout their corporate and product value chains."
Kathrin Winkler, EMC's senior director for corporate sustainability, said: "We're looking forward to helping develop a practical and actionable GHG Protocol standard that can drive emissions reductions for our industry and our customers".
EMC is on the Board of Directors of The Green Grid, the global consortium dedicated to developing and promoting energy efficiency for data centres and information service delivery. EMC also participates in the Carbon Disclosure Project and joined the Climate Leaders program of the U.S. Environmental Protection Agency (EPA) in 2004.
Good stuff, eh. Don't even think of green wash. Though the company arguably leaves itself to open to accusations of double standards on the role corporate jets play in corporate value chains' greenhouse gas emissions?
Jet travel
EMC chairman and CEO Joe Tucci and his entourage flew by private jet to meetings in Cork, Ireland, in August last year. In the previous year, according to this report, the EMC Chairman and CEO enjoyed $187,000 of jet trip benefits.
Also in 2007, it was reported that EMC's corporate airplane fleet consisted of a 12-14 seater Gulfstream Aerospace G-IV twin jet, plus not one but three smaller Bombardier Challenger 300 planes. There are even photos of the EMC Gulfstream jet on the web (below and here).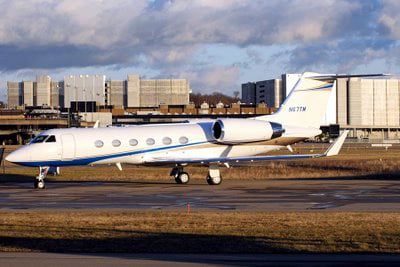 Copyright Photo: EMC Corp. Glufstream G-IV N67TM (cn. 1409), (Bruno Geiger - ZRH 22. Januar 2008).
Paul Maritz, who runs EMC'c cloud services business, is reportedly an investor in DayJet Technologies. This was a spin out from DayJet Services, which collapsed, and which has real-time routing technology for airplane flights. Useful for real-time trips up in the real clouds perhaps.
By supporting the initiatives above to help its customers and the world at large to reduce greenhouse gas emissions, while simultaneously operating a fleet of corporate planes which pump out greenhouse gases, EMC is arguably opening itself up to charges of hypocrisy and greenwashing.
Asked to comment, EMC said: "As part of EMC's Carbon Disclosure Project report in 2007, EMC disclosed that emissions from employee business travel were 85,000 tonnes. This contrasts with 4.063 tonnes from corporate jets. EMC currently has a corporate goal to reduce travel overall, which will certainly help with reducing emissions and costs. This is fairly comparable with a company such as Sun, who in 2007 reported that its employee emissions for business travel were 84,899 tonnes. EMC will be filing the 2008 report later this year."
So, taking a lead from Tesco's playbook, every little bit helps.
By the way it appears that Cisco boss John Chambers has a corporate jet and NetApp boss Dan Warmenhoven has a private jet. ®
Sponsored: What next after Netezza?