Seagate re-armours small business storage
BlackArmor NAS offers bare metal restore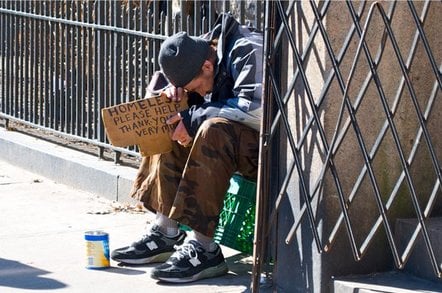 Update Seagate has introduced a line of network-attached, workstation and portable disk storage products with encrypted contents under its BlackArmor brand.
These represent a follow-on from Seagate's BlackArmor full disk encryption portable dsk drive. First to be announced are two NAS or networked storage server products, with the 2-drive, 4-bay - it's half populated - NAS 420 featuring a 2TB maximum capacity from Barracuda 7200.11 SATA drives, and a fully populated 4-drive, 4-bay NAS 440 with 4TB - 8TB of capacity, varying with individual drive sizes.
The BlackArmor NAS boxes provide continuous and automatic backup of up to 50 networked computers with full-system backup. The product ships with licenses for up to ten computers, and additional licenses can be purchased through Seagate.com.
Users can configure the products to have no protection or RAID levels 0, 1, 5 and 10, with the NAS 440 configured RAID 5 by default. The drives are hot-swappable and you don't need a screwdriver to change them.
There are four internal SATA ports and two external Ethernet ports plus four USB ports which can be used to attach an uninterruptible power supply, a printer or external USB drives for disaster recovery via a suggested offsite rotation. The products ship with an external power supply and user-serviceable fan.
They offer individual file to entire volume encryption with software management for access control at file and folder level with password protection and encryption. They also include bare metal restore and a recovery CD to protect against hardware failure - a nice touch - along with BlackArmor backup software.
Customers can access and share business content on these boxes securely from the road with an Internet browser without any extra installs or software. They can invite colleagues and clients to access select files and folders without needing an FTP site, while keeping their firewall intact and maintaining the security of their network.
Seagate is pitching these products at small office environments with up to 50 employees as well as self-employed professionals. Operating system support is Windows XP, Windows Vista and Mac OS X 10.4.11 or later. The suggested list prices are $799.99 USD for a 2TB NAS 420, $1,199.99 for a 4TB NAS 440, $1,699.99 for a 6TB one, and $1,999.99 for the 8TB version.
Here is Seagate making, shipping and selling through the reseller and retail channel a 4-bay small storage array that competes with other small business suppliers using its disks. It is clearly competing with its channel in this space. (Channel competition in home storage products was signalled by former CEO Bill Watkins last November). Where is the upper boundary of its drive array ambitions? Will it make and sell a rackmount drive array shelf? Will it make stand-alone tower storage for business, even fully-fledged drive array racks?
It hasn't said but storage suppliers OEM'ing its disk drives will be quite interested in the upper limits of Seagate's storage array ambitions. El Reg has asked the question and is awaiting a reply.
Update
Here is a statement from Nathan Papadopulos, a spokesperson for Seagate's Consumer Solutions Division: "BlackArmor NAS 440 and BlackArmor NAS 420 are Seagate's latest offering in the small business NAS space. Historically we have provided NAS devices for the home or small business in the form of Mirra Personal Server and the Shared Storage II and Shared Storage III under our Maxtor brand."
"The BlackArmor NAS offerings are merely responding to what the market has asked for. There are special needs that the small business professional has for their NAS servers and Seagate did our best to deliver on all these points. There are no plans at this point to provide rack storage shelves or multi-controller arrays."
That's clear enough - at this point! ®