Street View caught taking the piss - again
Reg hack also nailed on Google Maps
It's evident that Google is having a busy time of it down on Blighty's mean Street View - pulling dodgy content left right and centre as quickly as net wags gleefully pinpoint outrages against common decency.
Birmingham has proved fertile ground for such spots, including some poor geezer taking a slash (now pulled), and this touching scene: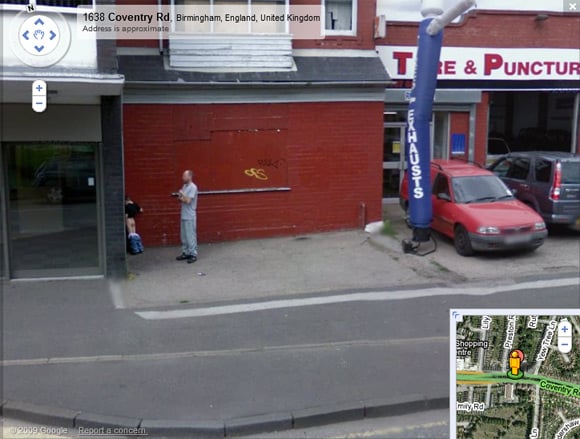 This image has a slightly melancholy, and perhaps disturbing, atmosphere - a kind of "Gary Glitter pays homage to Edward Hopper" vibe. Accordingly, it has also now been airbrushed from history.
At Vulture Central, meanwhile, our elite Street View team is still working through your tip-offs. Rather sensationally, we have a confirmed sighting of Reg hack Bill Ray saying hi to the Orwellian Opel: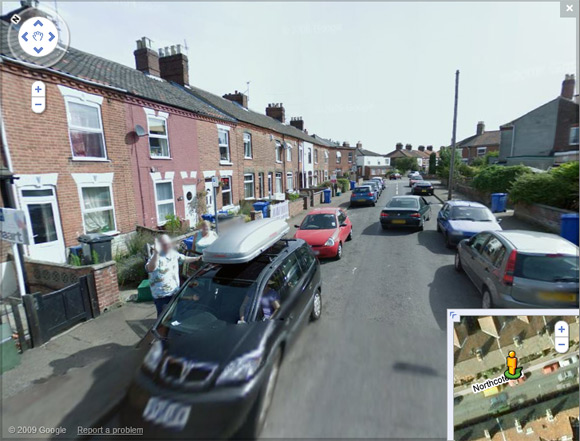 We're not sure what's more shocking here - Bill's friendly wave to the privacy-busting spymobile or his shirt. We'll leave that for you lot to ponder, while we get back to scouring Google Maps for more entertainment. Expect further Street View excitement over the coming days. ®
Sponsored: What next after Netezza?