Third e-bike to line up for 'zero-emission' TT sprint
Enertia humms up to starting line
'Leccy Tech As the date of the world's first "zero-emission" bike race - the TTxGP - approaches, news of another machine that will line up alongside the Mission One and possibly the TTx01.
Oregon-based Brammo has announced on Twitter that it will bring its Enertia e-bike to the annual Manx two-wheel thrash and take part in the world's first race solely for electric motor cycles.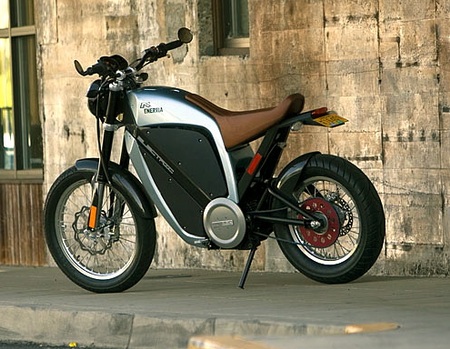 Brammo's Enertia: TTxGP attempt
Perusing Brammo's spec sheet, we see that the Enertia is powered by a 240A 3.1kWh lithium phosphate battery which powers an electric motor with a peak power output of 13kW (18bhp) and that generates 28lb ft (38Nm) of torque - that latter a figure not dissimilar to that claimed by KTM for its Electro Enduro.
Top speed is said to be "over" 55mph – so we suspect John McGuinness' 2007 TT lap record is not in any real danger - while the range on a full charge is said to be between 35 and 45 miles. The 0-40mph sprint is apparently dispatched in 5.88 seconds, and the whole kit and caboodle tips the scales at 127kg (280lbs).
According to TTxGP, the race – well, time trails, to be more accurate – will take place on the Mountain Course. That being so, the Enertia's maximum range looks perilously close to the track length of 37.733 miles. Presumably they will be bringing along a bigger battery pack for the day.
The cost of the Enertia? Initial models with a carbon-fibre chassis will set you back $14,995 (£10,373/€10,988) and should be ready any day now, while the standard production model - which will have an aluminium chassis - will cost $9,995 (£6915/€7324) and should be available in the next few months.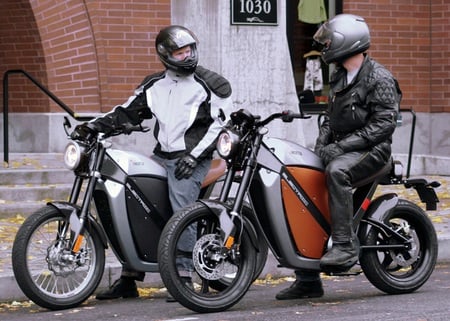 'Outta charge, mate?'
'Yeah, you too?'
'Left me cable at home too'
No matter which model you go for, we reckon that's quite a pile of cash for some pretty limited performance.
The single-lap TTxGP will take place on Friday, 12 June, if anyone finds themselves on the Isle of Man and at a loose end on the day. ®
Sponsored: Detecting cyber attacks as a small to medium business