Asus Eee PC 1000HE netbook
Nine-hour battery life? You betcha
Review Asus was clearly stung by criticism last year that its Eee PC line-up wasn't providing the runtime punters had been led to believe netbooks would deliver. Couple that with the confusion caused when some countries got Eee PC 900s with one battery capacity, while other regions got better ones, Asus needed to look to its reputation as netbook pioneer.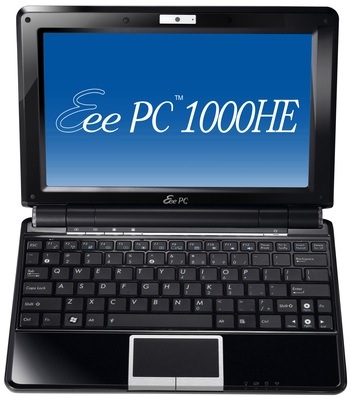 Asus' Eee 1000HE: claimed to run for 9.5 hours
It did, and began rolling out machines will higher-capacity power packs. In Register Hardware tests, Asus machines topped the tables for battery life. They still do, despite the introduction of the long-running Samsung NC10.
But Asus has rested on its laurels, and here comes the latest 10in Eee PC, the 1000HE, offering a claimed nine-and-a-half hour battery life, promoted on the machine with a gaudy "one-day computing" sticker.
Central to delivering that kind of battery life is, essentially, bundling a bloody big battery. Our 1000HE review sample came with a 8700mAh power pack that's quite chunky, but fits within the lines of the netbook itself. We expect all 1000HEs will come with this battery, not least because Asus is making such a big deal about the runtime.
Another factor in battery life is the power consumption of a netbook's components. The 1000HE comes with a 10.1in screen with the customary 1024 x 600 resolution. It's also matte, so it'll immediately appeal to all those folk who hate glossy screens. We prefer the latter, with the more vibrant, brighter colours they produce, and while the colours aren't bad on the 1000HE, we found it to be a surprisingly dark display, even with the brightness on max.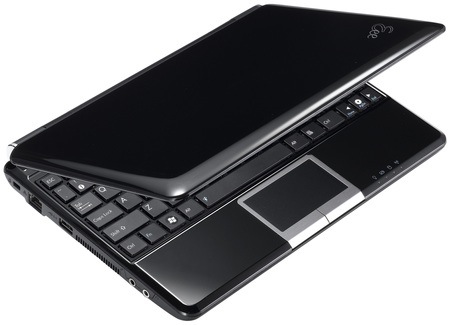 Shiny but chunky
To be fair, it's no darker than the nine-month-old Eee PC 900 we have on our desk too, but it's noticeably less bright than laptops and other netbooks we have here, such as the Acer Aspire One. We can't help but feel Asus is limiting the brightness solely to boost battery life. By all means set an advantageous default - say, 75 per cent - but we think the user should have the freedom to decide how best to balance brightness and battery life.