Second Light not Surface 2, claims Microsoft
But we are working on a bigger version, hints exec
Microsoft has confirmed that Second Light isn't a second Surface, despite reports claims to contrary. It also hinted that larger and more advanced models of the original interactive coffee table may be developed.
Can't see the video? Download Flash Player from Adobe.com
Numerous online reports, mostly taking their lead from a BBC article, this week stated that Microsoft is developing a more technically advanced version of Surface codenamed 'Second Light'.
This despite the fact that Microsoft demo'd SL way back in October 2008, showing off the machine's use of a second projector to cast an image on a second surface - a piece of paper, say - held above the tabletop PC.
This week's reports claimed Second Light will also include "HD-quality" cameras and infrared sensors that do away with the need for objects to even touch Surface's… er… surface.
However, a post by Microsoft bod Eric Havir on Surface's official blog has since stated: "Second Light is not the next version of Microsoft Surface."
Havir's post is somewhat sketchy about what Second Light's intended purpose actually is. But he noted that it's a research project to showcase the possibilities of the surface-computing platform.
Microsoft is at least considering expanding Surface's size and capabilities. "We are looking at a 46in model to complement the 30in version," Matt Champagne, Surface's director of Product Management at Microsoft, told Pocket-Lint.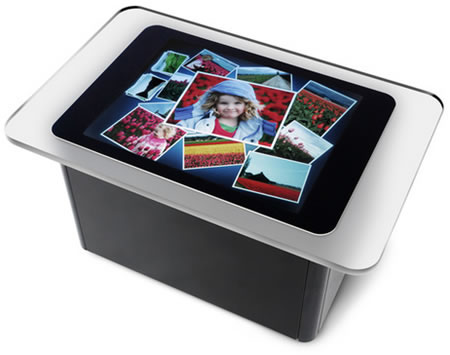 Surface could be made larger and have its features upgraded
He added that Surface's size is "unlikely" to go beyond 50 or 60in, but said "device recognition and the ability to drag content from device to the Surface or from the Surface to device" could be added.
Surface is now available to buy in the UK, but initial sales are focused towards big businesses. For example, Tesco has already run a trial to see if its Wine Club could use the interactive coffee table as a means of boosting vino sales to passing punters.
Havir added in his blog post that Microsoft's still committed to bringing the £8500 ($12,209/€9040) interactive coffee table to commercial customers in the US, Canada and EMEA. ®