Dell cooks up all-in-one PC treat
Suggests putting it in the kitchen
The trend for eye catching all-in-one PCs appears to be growing, with Dell now kicking its latest such offering into touch – the Studio One 19.
Described as beautiful enough to put in either your living room or... er... your kitchen, the all-in-one PC's based around an 18.5in, 16:9 aspect ratio monitor. Touch operation can be added to the screen as an optional extra, but it'll come with left and right flanking integrated speakers as standard.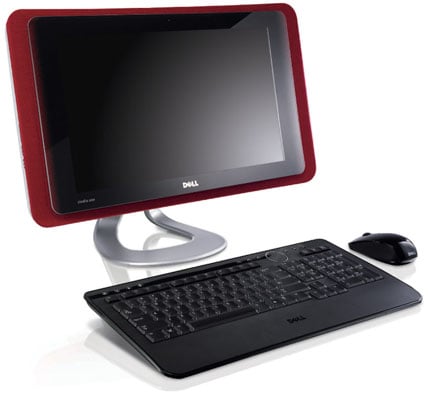 Dell's Studio One 19: coming to a kitchen near you?
A wide selection of Intel processor choices will be available to buyers, including Celeron, Dual-Core Celeron, Pentium Dual-Core, Core 2 Duo and Core 2 Quad. Graphics can be handled by either an Nvidia GeForce 9200 or a GeForce 9400 chip - the choice is yours.
The Studio One 19 can support up 4GB of DDR 2 memory and be fitted with an HDD of up to 750GB capacity. There's no mention of an SSD option. A slot-loaded optical drive will be included, though.
Sadly we must report that Dell will make you pay extra for all the cool functions, which include an integrated webcam with facial recognition security and a Blu-ray drive. However, the PC giant will chuck in a wireless keyboard and mouse.
The machine also has a seven-in-one media card reader and six USB ports.
Dell's planning to launch the Studio One 19 in Japan on 19 March, with colour options extending to white, pink, "charcoal" and the pictured red. A wider world launch is inked for this spring, and the PC's set to cost upwards of $700 (£506/€545). ®