Tata to release UK's first 'serious' electric car
Looks like a real car not a G-Whizz
'Leccy Tech Though lacking the glamour of some of the other electric cars shown at the Geneva Motor Show Tata Motors' Indica Vista EV may be the first that you will actually be able to drive because, if the mutterings around the Tata stand are to be believed, the car will be launched in Norway in September and be available to buy in major European markets - including the UK - before the end of the year.
Much of the development work on the Indica EV was carried out in Norway by the electric vehicle technology company Miljø Grenland/Innovasjon in which Tata Motors' European Technical Centre is the majority shareholder.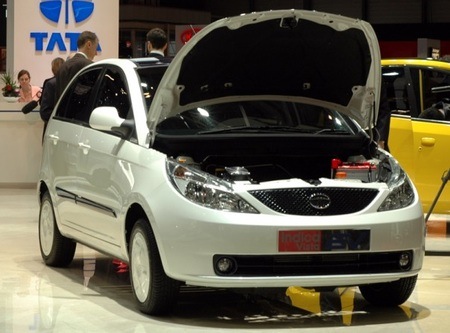 Tata's Indica Vista EV: out here this year?
Batteries for the Indica EV will be supplied by Canadian company Electrovaya and use its proprietary lithium-ion 'SuperPolymer' battery technology. The batteries will be placed in slim packs under the floor to maximise passenger space in the cabin. The electric motor – power output to be confirmed – will sit under the bonnet and drive the front wheels as per the petrol-powered Indica.
According to Tata, the Indica will have a range of 200km (125miles) on a full charge and get from 0-60kph (0-38mph) in under ten seconds. Top speed is said to be 130kph or just a shade over 80mph.
Thankfully, the Indica model the Vista EV is based on is the all-new 2008 model and not its wretched 1998 forebear.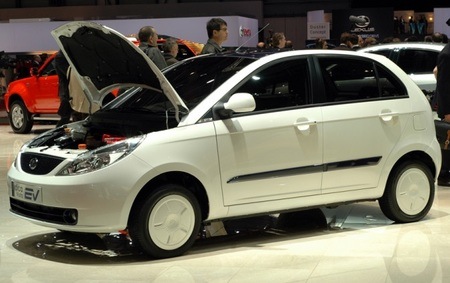 Not a G-Whizz, thank goodness
That was the model that Rover attempted to foist on the UK car buying public - in what was probably the most ill-judged move by a major car manufacturer ever - as the CityRover, a car with the rare distinction of playing a major role in killing off its country's last indigenous mass car maker.
No mention was made of the Indica Vista EV's likely price. ®