Inside the world's greatest TV remote
Fun with microcontrollers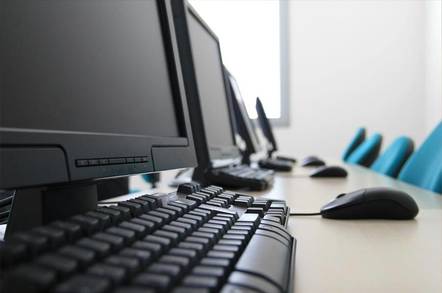 ETech The world's most desirable TV remote was a year and a half in the making.
Mitch Altman's TV-B-Gone is what you might call a single function remote. You point it at almost any television, and the TV turns off. It's a must for anyone who prefers the days when people actually spoke to each other when out for dinner.
Though the concept is wonderfully simple, actually building such a contraption is more labor-intensive than you might imagine. Altman spent eighteen months duplicating North America's TV off-codes.
The San Francisco-based inventor hacked his original TV-B-Gone prototype from another handheld novelty item known as the miniPOV. "Hacking a project that already exists makes things so much easier," Altman said this afternoon at the Emerging Technology Conference in San Jose, teaching the gathered geeks how to build "cool things" from microcontrollers.
"Getting started is much harder if you start from scratch. It's like a writer starring at a blank page. But if you start with a project that works, that's already been debugged, it isn't hard to make it do something different."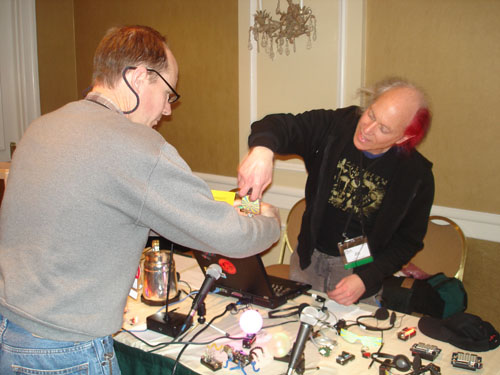 Mitch Altman and his microcontrollers
Developed by an MIT Media Laber who calls herself Lady Ada, miniPOV displays text messages in mid-air when you wave it to and fro, relying on the human eye's persistence of vision. The device contains a single row of eight LEDs, but when moved, different diodes turn on and off in nanoseconds, creating that mid-air message. Or so it seems.
In developing TV-B-Gone, Altman took out the miniPOV's eight LEDs and replaced them with a transistor that drives an infrared-emitting diode. Then he reprogrammed the firmware so it would set the timings for infrared signals, rather than turn those red lights on and off. "Otherwise, it was pretty much exactly the same as the miniPOV," Altman says.
So, all he had to do was teach the firmware to cycle through every TV off-code on the continent - which easier said than done. "It took me a year and half of my life to get the first prototype. There are thousands and thousands and thousands of TVs. And they use so many different codes and different ways of decoding codes." Even with the same TV company, Altman says, different divisions will adopt different codes for different televisions.
"The only way to do it is a lot of field testing. But fortunately, field testing is fun." If your idea of fun differs from Mitch Altman's idea of fun, you can buy your own TV-B-Gone for about $20 to $25. Or you could build your own without the field testing. Altman has open sourced his off-code database.
TV-B-Gone includes 140 off-codes, and according to Altman, that covers about 99 per cent all televisions in the States. It takes about 70 seconds to cycle through every one. The device comes in two versions: one for North American and Japanese TVs ($19.99) and one for European TVs ($24.99).
Famously, Gizmodo carried a TV-B-Gone to the Consumer Electronics Show early last year, wreaking more than a little havoc. According to Altman, the publicity put an extra $24,000 in his pocket. "I thanked them personally," he says. ®