Gamers risk early graves, claims advert
Health groups warn against inactive lifestyle
Young gamers have been targeted by a healthy lifestyle advertising campaign that implicitly connects videogaming with early death.
Charities the British Heart Foundation, Cancer Research UK and Diabetes UK, in partnership with the government, have published an ad that carries the headline "Risk an early death, just do nothing" above an image of a young boy holding a PlayStation controller.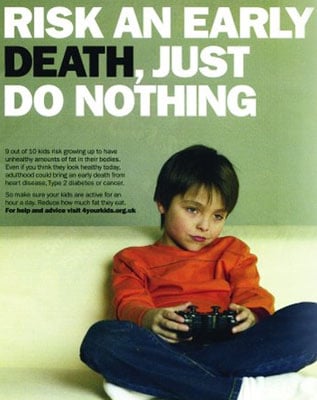 The government-funded advert seems to link videogames and death
The advert states that "nine out of ten kids risk growing up to have unhealthy amounts of fat in their bodies" and that young'uns should be active for an hour a day.
The implication is clear: some kids are spending so much time sitting on their butts playing videogames that they're not getting exercise. Couple that with a dodgy diet rich in salt, sugar and saturated fat, and young gamers are heading for early graves, the ad suggests.
It's interesting that the advertisers decided that the boy should be pictured holding a PlayStation controller, rather than a Wii Remote and Nunchuck. Some people believe that the Nintendo console, with its on-your-feet approach to gaming, can actually help you get active and lose weight.
Just try playing the boxing game for 30 minutes.
What's your opinion about the advert? Is it fair? Perhaps you think kids playing videogames for three hours a day does indeed mean they'll grow into pizza-scoffing lardarses? Let Register Hardware know. ®