Boffin unveils facial expression-controlled iPod
Total winker?
A cute girl winking at you on the bus may soon, unfortunately, no longer be a sign that she's hot for you. Why? Because she might just be controlling her iPod.
That's because Kazuhiro Taniguchi, from the Osaka University in Tokyo, has designed a gadget able to control an MP3 player using pre-defined facial expressions.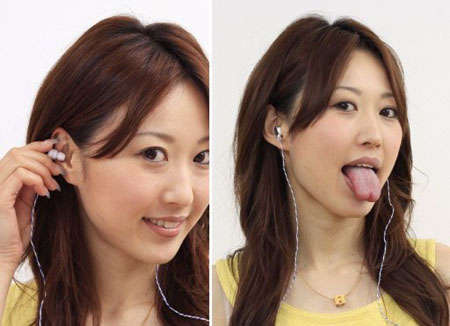 Ear Switch: control your MP3 player using expressions
The Ear Switch looks like a normal set of headphones, according to an Agence France Press report, but includes a set of sensors that allows its on-board computer to measure tiny ear-canal movements.
The result, Taniguchi claimed, is that "an iPod can start or stop music when the wearer sticks his or her tongue out".
He added that the user can also skip to the next track by widely opening their eyes or skip back by winking. Other facial expressions could also be programmed to control other features.
Taniguchi has also eyed-up several other potential uses for Ear Switch, including mounting the technology into a device that could tell, somehow, if the wearer's eating regularly or sneezing frequently.
It could also be used by disabled people to control everything from cameras and computers to air conditioners and washing machines.
"If [Ear Switch] believes they are not well, it could send a warning message to relatives," Taniguchi added.
Taniguchi is currently planning to patent Ear Switch, but hopes to have a retail version available within two to three years. ®