US killer robo-plane makes strike without remote pilot
Automated killware now handled by sergeants
A US killer drone has carried out a lethal strike from the skies above Iraq, for the first time remotely controlled entirely by non-aircrew-rated, enlisted soldiers. The milestone would seem to foreshadow redundancy for large communities of military pilots in coming years.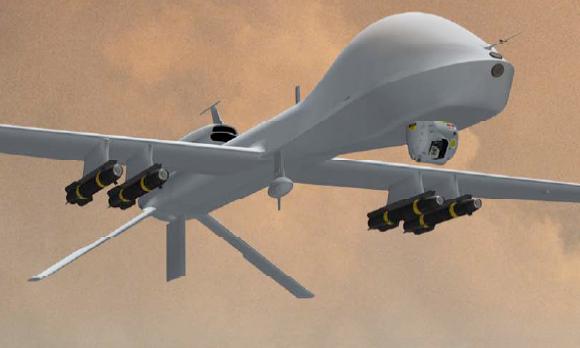 We don't need no stinkin' pilots.
According to a release from Multinational Division North, flagged up by the Danger Room blog at Wired magazine, a US Army Warrior-Alpha delivered the strike in support of American and Iraqi troops on the ground. The Warrior-Alpha, a highly automated version of the famous Predator drone, was controlled by Staff Sergeant Jerry Rhoades, Corporal Phillip Cheng and Specialist James Pegg.
According to Rhoades:
"We neutralized both targets – [the ground forces] were satisfied... This was the first time the Warrior Alpha System engaged a target in combat."
There have been many lethal strikes by US and British Predator and Reaper drones already, but these aircraft are controlled at all times by a fully-qualified officer pilot with flight experience in normal manned aircraft.
Although American pilots hate drone-driving duty, generally having to be ordered into it against their will, they are also very uncomfortable with the idea of mere enlisted tech specialists handling what are to all intents and purposes close air support missions using strike aircraft. This tends to call much of their raison d'etre into question.
But the latest news from Diyala Province would seem to confirm that nowadays there is no real requirement for pilots in ordinary air support roles, whether in the aircraft or in the ground control centre. Nobody would be happy without people in the loop, but there seems no real reason for these people to be expensive, privileged officers with millions of pounds' worth of flight time.
Corporals and sergeants - who, after all, are already trusted to direct very significant firepower in the ground forces - would seem to be more than capable of the decision making. As for the flying, the Warrior-Alpha can do that itself, including unassisted takeoffs and landings. ®
Sponsored: Beyond the Data Frontier