Iomega Home Media Network
Promises more than it delivers?
Review The Home Media Network Hard Drive sounds like an all-singing, all-dancing multimedia extravaganza, along the same lines as Iomega's recently-released ScreenPlay Pro HD. However, it's actually a much more modest proposition than that.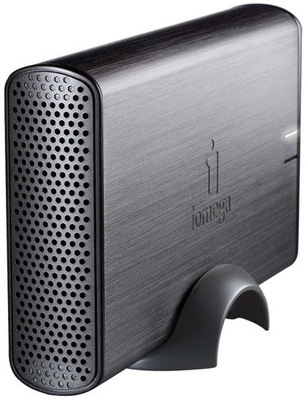 Iomega's Home Media Network Hard Drive: just a basic NAS?
The HMNHD is really just a relatively basic NAS box. It doesn't have the assortment of HDMI and video interfaces provided by the more versatile ScreenPlay, just a Gigabit Ethernet port for hooking it up to your router and a USB port for connecting additional storage devices, or for sharing a printer on your network.
Our review unit was the 500GB model with a 7200rpm drive, priced at £135, and there's also a 1TB model available for £180. The drive is quite neatly designed, with a "burnished gun metal" - aka 'dark grey plastic' - casing that measures a compact 200 x 125 x 37.5mm. The internal fan makes a quiet but steady hum – about the same level as the fan in the Toshiba laptop that we tested it with, so it's noticeable but not annoying. Stick it on a shelf or in a corner next to your router and you won't notice it at all.
Setting up the drive is very straightforward. You just connect the power and Ethernet cables and then install Iomega's Home Storage Manager software from the CD-ROM supplied with the drive. Iomega also includes a copy of the Retrospect Express back-up programme for making regular back-ups of your files.
One nice touch is the capacity gauge on the right side of the drive. This is a small LED that glows blue when the drive is 75 per cent full, orange at 85 per cent and then flashes angrily at you when you pass the 95 per cent mark. It seems a bit daft, though, to set the LED so far back on the unit that you can't really see it from directly in front.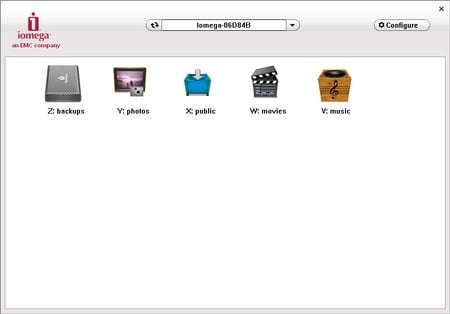 Access content through the OS or Iomega's app
Some NAS drives can be a bit confusing for users who aren't familiar with networking products, but the Home Storage Manager software is very easy to use. It's Mac-compatible too, but there's no Linux version. Once installed, the app automatically scans your network to locate the HMNHD, and then displays the various folders on the drive.
Sponsored: Detecting cyber attacks as a small to medium business