Fujitsu Siemens Amilo Mini UI 3520 netbook
Customisable covers, hurrah!
Review Fujitsu Siemens is no stranger to small laptops, but the Amilo Mini pushes it into the Small, Cheap Computer category along with the likes of the Asus Eee PC and that machine's many, many competitors.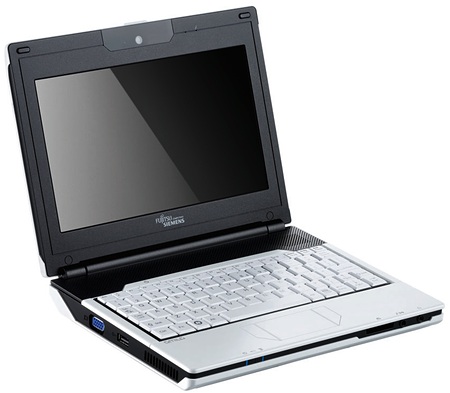 Fujitsu Siemens' Amilo Mini: 1980s styling?
While most manufactures are opting for soft edges and smooth transitions, Fujitsu Siemens has gone distinctly hard edged with design of the Amilo Mini. It's mostly made up of straight edges and 45° angles, with the only concession to curves made on the corners, presumably for safety reasons.
Not only is it a high contrast black and white design, but the white plastic parts extend a couple of millimetres further out than the black, extenuating its edges and making it look a bit like it was born in the 1980s and not the present day.
If two-tone monochrome isn't quite your thing, then you can add a dash of colour to the Mini thanks to its changeable covers. With a range of interchangeable lids on offer, you can even ensure that your clothes and computer always co-ordinate.
There's a dark red one supplied in the box, with other hues available separately. One point to note: the covers fit over the existing white lid which isn't removable - believe us, we tried, accidentally at first - so they extend another couple of millimetres, giving it a bit of a layered look when viewed end on.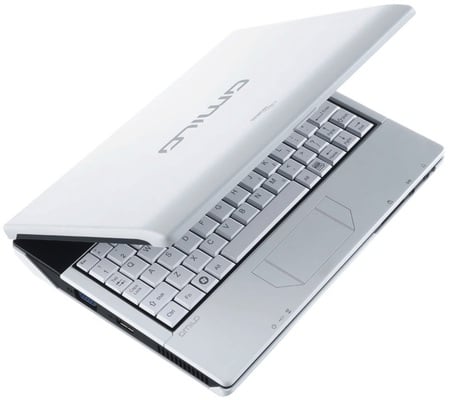 Straight lines, good - curves, bad
The Amilo Mini has a footprint 232mm wide and 175mm deep and measures 29mm high at the front, rising to 36mm at the back - putting it largely on par with other netbooks on the market. And it's light - just 1kg. Unfortunately, a lot of the space appears wasted once you open up the machine.
Sponsored: Beyond the Data Frontier