One-eyed man creates prosthetic 'surveillance' eye
The aptly named Eyeborg Project
A one-eyed man has taken advantage of some of the world's smallest imaging and data transmission technologies to help him create documentaries filmed from the first-person perspective.
Can't see the video? Download Flash Player from Adobe.com
Rob Spence, a 36-year-old film maker from Canada, finally had his eye surgically removed some 13 years ago - and a further 13 years after the organ was badly damaged in a shotgun accident.
However, he and a team of ocularists, inventors and engineering specialists are now working on the Eyeborg Project – the development of a prosthetic eye that captures and transmits video.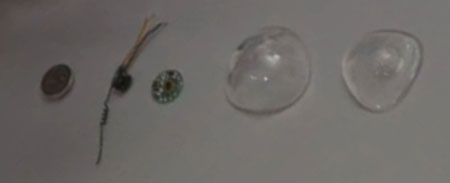 Spence's eye includes a battery (far left), wireless transmitter, circuit board-mounted camera and double layer eye
The eye will include a 1.5mm CMOS camera, an RF transmitter "smaller than the tip of a pencil eraser" and a lithium-polymer battery. Footage will probably be sent to recording equipment in a rucksack, which will presumably be worn by Spence.
His aim, aside from breaking technological boundaries, is to raise awareness of the issues surrounding surveillance in our society.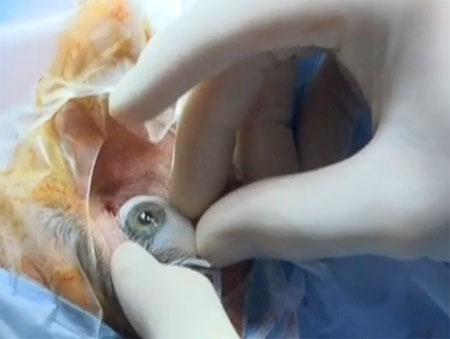 "Hold still, this might sting a bit..."
Spence's project sounds remarkably similar to the dream of Tanya Vlach – a one-eyed woman who last year appealed for some gadget guidance to help her turn her artificial eye into a camcorder. ®