Snacker discovers Nokia phone in crisp packet
Bag Finnished off?
Nokia has begun using a unique, but totally barmy, method of phone distribution: putting its handsets inside crisp packets.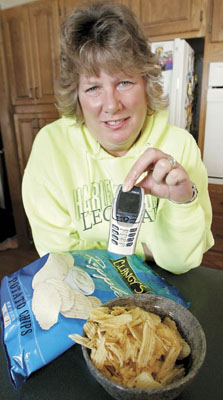 A Nokia phone turned up inside this woman's crisp packet
OK, so the retail distribution method isn't a Nokia endorsed one, but one hungry woman in the US was shocked recently to find one of the Finnish phone maker's handsets inside her packet of crisps.
Emma Schweiger, of Janesville Township in Wisconsin, discovered the blue and silver Nokia inside a bag of Clancy's Ripple Potato Chips – which she'd bought from a local Aldi store, according to a report by website GazetteXtra.
The phone was covered in a greasy film by the crisps, but all their calories seem to have deep-fried the phone's circuit board because it wouldn't turn on.
Schweiger reportedly said that the phone had a T-Mobile logo and discoloured circle on its rear - which could means the phone may have been attached to someone's belt.
She informed her local Aldi store about her discovery and was told that all crisp bags with the same brand and expiration date would be pulled from its shelves. She was also offered a replacement bag.
Perhaps Walkers will see Schweiger's find as potential inspiration for a new crisp flavour, such as Nokia Cocktail, Handset and Onion or Barbecue Phone? ®