NASA shops for new Moon spacesuits and landers
'Not your father's moonship', insists space agency
NASA's return to the Moon with manned missions - planned to commence from 2020 - has taken some early steps in recent days. The space agency awarded a contract for its new generation of moonwalker spacesuits, and US defence globocorp Boeing submitted proposals for the new "Altair" lunar lander.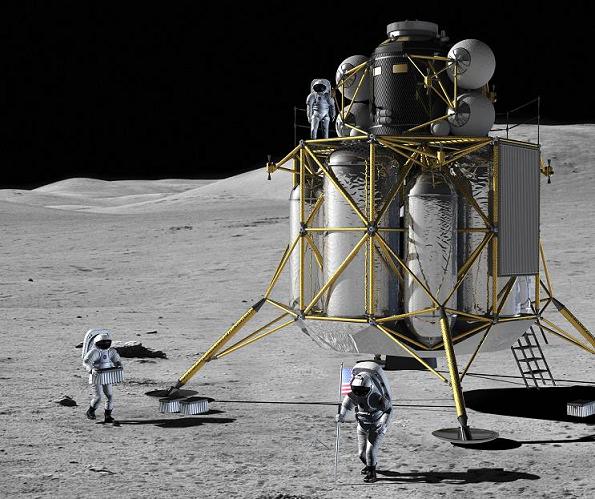 Beer cans rated for helmet connection and vacuum conditions are surprisingly large. Fortunately gravity was light.
The new spacesuits are to be made by Oceaneering International. The firm, as its name suggests, does most of its business underwater - offering all kinds of deep-sea, diving and remotely-operated robosub services. But Oceaneering also does things in the space sector, in particular running NASA's well-known extravehicular activity (EVA) training tank. (Neutral buoyancy is the best long-term simulation for microgravity available without going into space.)
Oceaneering scooped an initial deal last June for next-gen space suits to be used in the new era of NASA manned spaceflight aboard the Constellation spaceships, using Ares lift stacks and Orion capsules. The new interim letter contract which becomes effective today requires Oceaneering "to begin work on the basic period of performance while NASA and the company negotiate the contract's final terms".
Development of a new range of specialist moonwalking suits is planned to begin from 2011. Comparatively ordinary kit to be worn inside spacecraft and on occasional EVAs in space is to be delivered from 2015, the planned start of the Constellation programme.
Meanwhile, the first development stages of the Moon ships and base plans are now starting in earnest. US aerospace giant Boeing announced on Friday that it had submitted a proposal to NASA to supply early design and engineering services for the "Altair" lunar lander programme. This project is at an early stage at present, with the space agency some distance from settling on a final design or a builder.
"Boeing is uniquely positioned to provide great design support now, as well as to support Altair development, test and evaluation when the time comes," said exec Keith Riley.
Altair landers will be substantially more capable than the Apollo ones, according to NASA - no doubt keen to refute accusations that it is merely repeating the Apollo programme of the 1960s and 70s. The next-gen moonships, which will meet up with their crews in Earth orbit, are expected to deliver four astronauts and 15+ tons of cargo to lunar surface and stay there for up to six months before the upper stage lifts off for a return journey.
NASA emphasises that there will be no need for astronauts to remain in Moon orbit as there was with Apollo, and that the new Moon expeditions will last far longer than those of yesteryear: hopefully to the extent where a permanently manned base can be kept up, though this will depend on conditions in the Moon's polar craters. If it proves possible to find areas with access to water ice and constant sunlight, running a lunar base will be far less difficult and costly: hence survey orbiters are planned to launch shortly.
Here's a NASA vid of how the agency sees its initial 2020s moonshots going, complete with spacesuited astronauts:
For now, though, NASA is about to cease manned spaceflight by its own efforts as the space shuttle fleet heads for retirement. The new Constellation astronaut lifters, combining an Ares I rocket with the Orion capsule as shown in the vid, should start flying to the International Space Station in six years or so. ®