Ten of the best... noise-isolating earphones
Can't hear you...
Round-up One of the reasons that noise-cancelling headphones tend to be so expensive is that they use sophisticated electronics to generate their own sound waves that can cancel out background noise such as the drone of an aircraft engine. Noise-isolating earphones take a much more low-tech approach. They simply use rubber or foam earpieces to plug up your lughole so that outside noise can't get in.
This approach is generally less effective – we've seldom come across a set of noise-isolating earphones that block background noise as effectively as a nice big set of ear-covering noise-cancelling headphones. However, it does mean that noise-isolating earphones are smaller, lighter and less expensive than their noise-cancelling counterparts.
It also means that most of your money is being spent on producing good quality sound, rather than paying for the fancy electronics. You really need to pay £100 or more to get a decent set of noise-cancelling headphones, but we've been able to round up a wide variety of noise-isolating earphones that range in price from a mere £10 to over £100.
The important thing to realise about noise-isolating earphones is that the seal created by the earpiece is essential for blocking outside noise, producing a good sound and ensuring a comfortable fit. Any good set of noise-isolating earphones will therefore need to provide multiple sets of earpieces in different sizes in order to accommodate different shapes and sizes of ears.
Griffin TuneBuds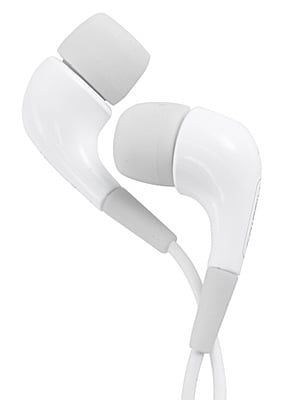 Griffin's TuneBuds are a low-cost option – the white ones we tested cost just £10 - but the luridly coloured (and obviously not very popular) pink and green models are on sale for a fiver. However, they're not a bad choice if you lose your player's normal earphones and you want to buy a replacement set without spending too much money. The noise-isolation isn't particularly effective, but the sound isn't bad – a little thin on the higher frequencies, but not too shrill. You also need to jam them quite firmly into your ear in order to block out background noise and get the best bass sound. However, Griffin includes three sets of earpieces so that you can choose the ones that fit best.
Reg Rating 70%
Suggested Price £15 Find the best online price here
More Info Griffin's TuneBuds page
Verbatim Sound Isolating Earphones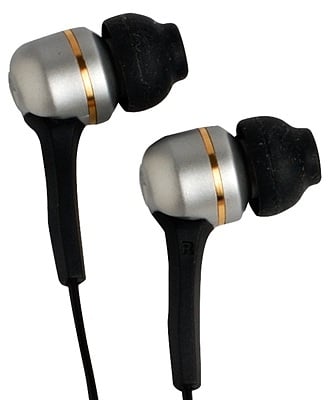 Verbatim is best known for making floppy disks and memory sticks, rather than high-quality audio components. And, truth be told, these new earphones are fairly cheap and cheerful, but they're not bad if you just want an affordable replacement set of earphones. Admittedly, the Sound Isolating Earphones don't actually isolate sound very well, but the audio quality is adequate for a set of 'phones that come in at less than £15. There's also a volume control built into the cable, and you get three sets of earpieces in different sizes to ensure a good fit.
Reg Rating 75%
Suggested Price £15
More Info Verbatim's Sound Isolating Earphones page