Boffins to unveil gesture-controlled 3D TV
Never worry about losing the remote again
A 3D TV with incorporated gesture-based controls is set to be unveiled in Germany next month.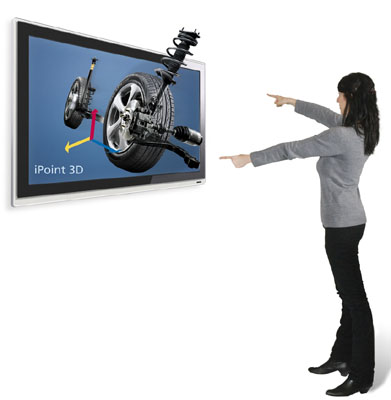 The iPoint: boasts a 3D display with gesture controls
The futuristic iPoint 3D TV allows people to interact with the display through simple non-contact gestures. They don't have to wear those silly specs either, according to maker the Fraunhofer Institute for Telecommunications.
A recognition device containing two Firewire-connected cameras for detecting hand and finger movements in real time comes with the set. The cameras sit in a unit not much larger than a keyboard, which is then either suspended from the ceiling above the screen or integrated into a coffee table in front of it.
The Institute claimed that, aside from its obvious entertainment appeal, the 3D TV might also be useful in offices and hospital operating rooms – where physically touching a screen presents problems.
The Institute also said that the screen could be used as a way of controlling other devices. For example, a housewife kneading pastry could turn down a pan of boiling potatoes or turn the lights up without leaving floury handprints all over the kitchen.
Researchers will showcase the iPoint 3D TV at the CeBit tech fair in Hanover, Germany next week. ®
Video
Hitachi highlights gesture-controlled HD TV - You are your own remote