Solar-powered gadget round-up
Got sunshine, will talk, text and surf
MWC Solar-powered mobile gadgets were commonplace at Mobile World Congress this year. So Register Hardware scanned the event's stands to bring you its three fave funky eco-friendly solar tools.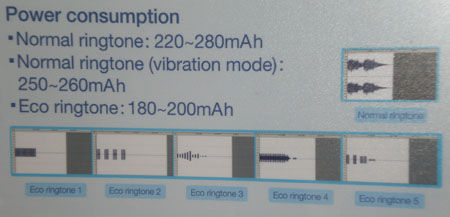 Eco ringtone reduces power consumption
Samsung recently unveiled the solar-powered Blue Earth mobile phone, but has since talked-up the handset's "Eco ringtone" feature that it's claimed reduces the talker's power consumption by around 20 per cent.
It claimed its Eco ringtone system consumes between 19 per cent and 29 per cent less than a regular ringtone system.
Samsung's not said if it plans to roll Eco ringtones – of which it has developed five audio types – to other phones.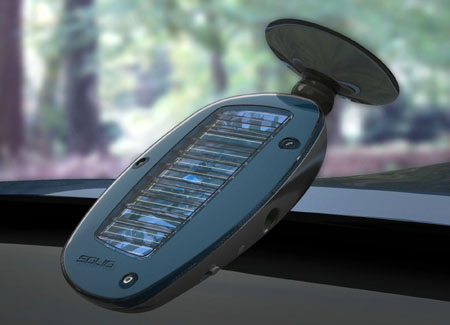 Solio's Communicator adds Bluetooth solar connectivity to your windscreen
Up next is the Communicator – a solar-powered Bluetooth speaker for use in your car. The gadget clips onto your visor and allows you to make hands-free calls without the worry of charging it up before your journey- provided it's frequently bathed in sunshine, of course.
It has a headphone jack, a USB port for cable-based charging and various buttons for powering up or altering the volume.
Maker Solio claimed its Communicator will provide over two hours of talk time from a six hour solar charge. It measures 25 x 75 x 150mm and weighs in at 150g. It'll be available later this year.
Finally, we have the TuffCharge Solar – a durable iPhone case with integrated 1400mAh battery and solar panel.
Although not an inherently new idea, the gadget – according to maker Freeplay – improves solar sucking by only using one solar panel, instead of several small ones connected in series.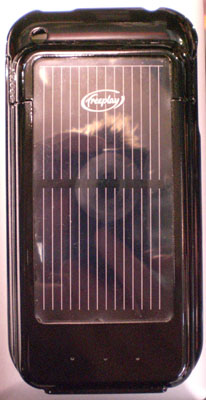 TuffCharge Solar is part battery part solar panel
A Freeplay spokesman told Register Hardware that solar panels connected in series won't collect any charge if even a small part of the arrangement's covered up, such as by a stray piece of paper on your desk.
The TuffCharge Solar overcomes this by only using a single panel, allowing power to be collected if only a small part of the panel's bathed in sunlight.
When used with the first-generation iPhone, a 60-minute solar charge will give TuffCharge Solar users 60 minutes of power. But usage time drops down to 30 minutes with the 3G handset.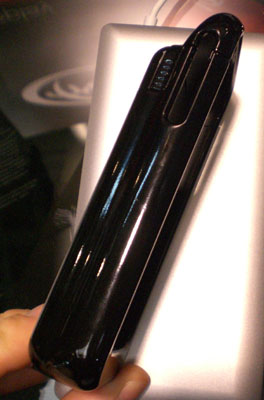 Chunky, but light
Freeplay's TuffCharge Solar measures 128 x 67 x 24mm, but is compatible with all iPhone models and the iPod Touch. It'll be available during Q3 for £50 ($60/€55).
Still hungry for more solar-powered mobile gadgets? Then check out LG's concept solar Secret phone. ®