17in MacBook boasts bloody big battery
12,820mAh, anyone?
Apple's 17in MacBook Pro comes installed with a humungous 12,820mAh battery, a disassembly of the newly shipping system reveals.
Mind you, since the thing weighs a hefty 6.6lbs/3kg, how often users will be relying on battery power remains to be seen. We suspect this boy is going to spend most of its life on desktops, plugged into the mains.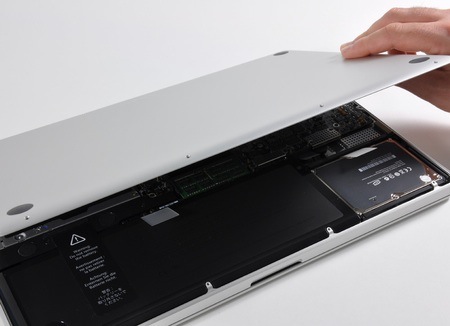 'Willya look at the size of that thing.'
But we digress - back to the take-apart, conducted by iFixit, which removed the ten tiny screws holding on the MacBook's baseplate to reveal the monster power pack that runs almost the full length of the laptop's 39.3cm front - the remainder is the length of the system's 2.5in HDD.
The battery weighs 1.25lbs/570g - 20 per cent of the laptop's weight. Apple claims it delivers up to eight hours' runtime.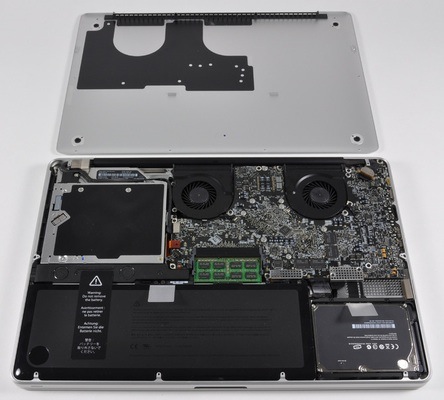 Interior design
According to IFixit, the laptop's User Guide grants owners permission to remove the backplate, undoubtedly to allow them to access the machine's two, bunkbed-configuration memory slots. But the battery sports a sticker warning punters against pulling out the power pack. The sticker's attached to both battery and optical drive so it'll tear if anyone tries the maneouvre.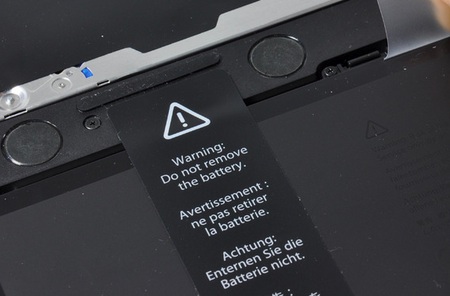 You have been warned
IFixit's full take-apart can be found here. ®
Reviews Early 2009 white MacBook
Late 2008 MacBook Air
Late 2008 MacBook Pro
Late 2008 aluminium MacBook
Sponsored: Detecting cyber attacks as a small to medium business