Hydrogen motoring too heavy for pundit
Plug-in tech is the way to go, apparently
'Leccy Tech As a way of getting yourself crossed off Honda President Takeo Fukui's Christmas card list, a recent LA Times story about the Honda FX Clarity hydrogen EV is going to take some beating.
Writer Dan Neil's bottom line is that "hydrogen is a lousy way to move cars", a view based on two main criteria.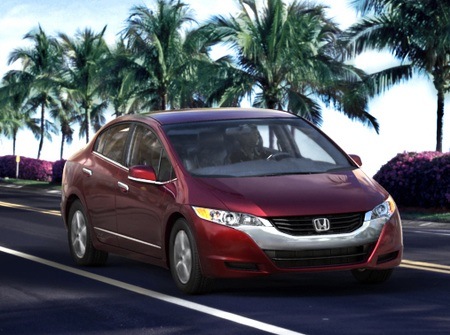 Honda's FX Clarity: fuelled by hydrogen and hot air?
Firstly, getting hydrogen into a car is horrible inefficient. By way of rough illustration, Neil reckons that getting 1kg of hydrogen from water takes about 60kWh of electricity. The Clarity's fuel tank takes 4kg of hydrogen which gives a range of 270 miles from 240kWh of electricity.
Compare and contrast, he suggests, with a plug-in Tesla Roadster that can do 220 miles on a full charge of its 53kWh lithium-ion battery.
Arguments about how far a Tesla Roadster will actually go on a full charge aside, the cost and efficiency honours seem to go to the plug-in EV by quite some margin.
Neil's second, and more obvious, point is that the cost of setting up a hydrogen filling station infrastructure of any meaningful size is going to be Biblically expensive. The odd filling station dotted about Southern California is one thing but, let's be honest, we aren't going to be seeing hydrogen pumps in Swindon or Sheffield any time soon.
Still, it's not all bad news for Honda - Neil clearly loves his Clarity. He just wants one he can plug in. Frankly, so do we - because it would be a car we could drive today and not in some mythical hydrogenized future. ®