Appro calls Cray ante with super blade cluster
Linux and Windows for HPC shops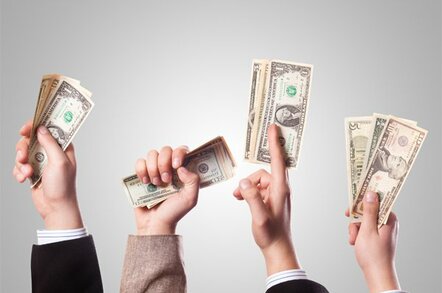 Supercomputing cluster maker Appro is looking to midrange HPC shops for some new business in this tough economy. Just like rival Cray started doing last year.
Today, Appro launched a blade-style cluster server called GreenBlade that the company hopes will steal some thunder - and some business - from Cray's new entry CX1 Windows-based blade server. And Appro is also hoping to take some revenues from traditional blade and rack server makers like Hewlett-Packard, IBM, Dell, and Sun, who peddle their products to run supercomputing applications too.
Appro says that the GreenBlade machines offer twice the compute density of rack-based servers, which is about what all commercial blade servers can do unless the rack servers are equipped with half-width, two-socket motherboards. These are made by a number of board makers (Super Micro is the big one).
The GreenBlade chassis holds up to 10 blade servers and is for the moment only supporting "Shanghai" quad-core Opteron processors from Advanced Micro Devices. Support for Intel processors, which are almost certainly going to be quad-core "Nehalem EP" Xeon chips, due to launch any minute now from Intel, is coming in the second quarter of 2009.
The gB122H blade server is a two-socket blade that uses nVidia's nForce Pro3600 chipset. The blade has 16 memory slots, and using 4 GB DDR2 memory, it maxes out at 64 GB per blade. Each blade has room for two 2.5-inch SATA disks (which come in 500 GB capacities), and each has a 16 MB XGI Volari Z9 graphics controller, two dual-port Gigabit Ethernet ports, and an optional CX4 InfiniBand port, plus a PCI-Express x8 slot on a riser card.
The future Xeon-based GreenBlade, which has not been assigned a product number yet, will have the same basic compute power, packing up to 10 blades, 20 processor chips, and 80 cores into a single chassis. Appro will not identify the chipset it is using, but it would be very surprising if it were not Intel's own "Tylersburg" chipset for two-socket Nehalem EP processors.
What Appro did say is that it will have 12 memory slots on the Nehalem board, for a maximum of 48GB of DDR3 main memory per blade. That obviously gives the Opteron blade a 33 per cent capacity advantage on memory over the Intel blade - not an insubstantial thing for some HPC workloads. If DDR2 memory is substantially cheaper than DDR3 memory, that will be another advantage - as will the fact that DDR2 memory runs a little cooler (even if its performance is a little slower).
The Xeon blade will have room for two SATA disks as well. If I had to guess - and I have to because Appro is not saying whose board Nehalem board it is usin - I would say it is the X8DTT from Super Micro, which I told you about last November.
The GreenBlade chassis comes in a 7U form factor and can have up to four 1.63 kilowatt power supplies with N+1 redundancy, if you go for that sort of thing. But the maximum power delivered to the components in the chassis tops out at 4.7 kilowatts. The chassis has up to three cooling units, which each have redundant cooling fans. Whether using the Opteron or Xeon processors, the blades, power supplies, and fans are all hot-swappable, and customers can mix Opteron and Xeon blades in the same chassis.
Like the Cray CX1 blade super that was launched last September, which only is certified to run Windows HPC Server 2008 and Red Hat Enterprise Linux, the Appro GreenBlade boxes can run either Windows or Linux. (This story originally and erroneously said that the CX1 did not support Linux.)
In the second quarter, Appro says that it will not only launch Intel blades for the GreenBlade chassis, but also a set of storage blades that allow customers to pack more local capacity into the chassis and not force customers to acquire an out-of-box storage area network. When blade servers took off eight years ago, they were intended for relatively skinny infrastructure workloads, and then SAN connectivity was added to the blades so they could link out to shared storage.
But SANs are expensive, and as commercial blade server makers have learned only in the past year, sometimes customers want local storage in the blade chassis that attaches directly to the blades, much as SCSI disk arrays have linked directly to rack and tower servers for decades.
IBM and HP have SAS storage modules for this purpose, complete with RAID data protection of various levels, and it is likely that the storage blades that Appro rolls out will look very similar to what IBM and HP have done. All Appro says is that single and dual storage blades will be available next quarter. It would not be surprising to see quad-socket Opteron and Xeon blades at some point as well, and a special enclosure for the blade chassis that allows it to be set up as a deskside module for entry HPC customers seems likely too.
While the GreenBlade machines are designed to give Appro something to sell into midrange HPC accounts, these chassis can be stacked up and linked up into much larger clusters suitable for academic, corporate, and government HPC centers. Appro is, for instance, offering a turnkey rack configuration that puts eight of the GreenBlade chasses into a single rack, for a total of 640 cores, with some room left over for network switches. Depending on the processor and storage options, a rack burns between 16 and 23 kilowatts of juice.
As we went to press, Appro had not returned calls about the Windows and Linux versions it supports with the GreenBlades or what pricing might be for configured systems. ®
Sponsored: How to Process, Wrangle, Analyze and Visualize your Data with Three Complementary Tools