Samsung NC10 netbook
The new mini-laptop champion
Sit with sunlight directly behind you and you'll still see some reflected back in the screen, but it's much less pronounced and not so distracting. The downside, however, is that colours are a little muted compared to those you see on a glossy screen. The customary webcam - 1.3Mp in this case - sits above the display.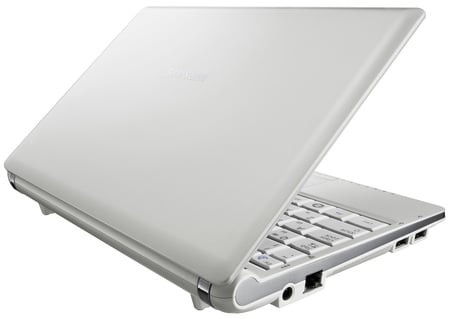 Decent dimensions
Style-wise, the NC10's a bit of a looker. The lid is finished off in glossy piano-black plastic and there's a shiny metallic silver stripe running down the sides and across the front of the machine. The downside of all these reflective surfaces is that greasy fingerprints soon spoil the sheen. If black isn't your thing, the NC10 is also available in blue and in white.
It's footprint stretches to 261 x 186mm and it's 40mm thick at the back when closed, tapering down to 30mm at the front. It weighs in at a travel-friendly 1.3kg.
As you'd expect from a machine this size and weight, it's powered by the now netbook-standard 1.6GHz Intel Atom N270 processor with 1GB of DDR 2 memory. While many manufacturers have opted for solid-state drives, Samsung has stuck with traditional spinning disks - it may make it more susceptible to bumps and bashes, but you do get a hefty 160GB of space to store your files.
Wireless data runs to 802.11b/g and Bluetooth - there's no 3G built in so you'll need to stay within Wi-Fi coverage or resort to dongles if you're out and about a lot and need to stay in constant internet contact.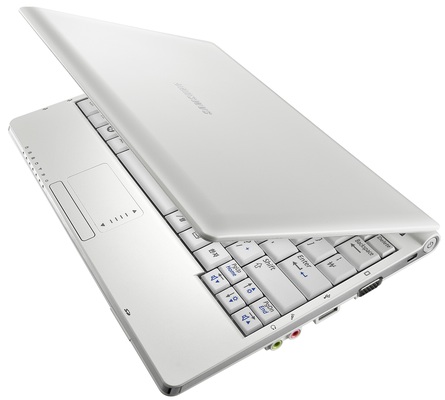 The trackpad could be better...
The three USB ports are split between both sides of the machine - two to the left, one to the right - providing plenty of flexibility to position peripherals. The left-hand edge also houses the wired 10/100Mb/s Ethernet port and power connector, while over on right you'll find 3.5mm headphone and microphone sockets plus VGA. The front edge is home to the various blue status LEDs to the left, with an SD card slot situated over on the right.