Tesla opens skirt, flashes bit of S
Blink and you'll miss it
'Leccy Tech Clearly unable to contain itself until 26 March, Tesla has issued a sneak peak of its Model S 'leccy saloon.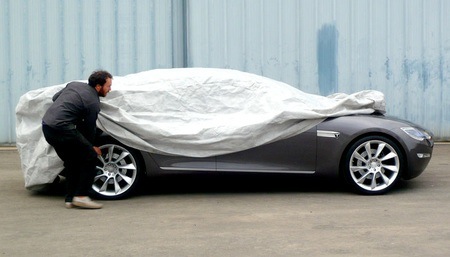 OK, the image is mostly dust sheet and bearded staffer, but the smooth nose, Aston Martin-like front wing chrome adornment and BMW 1/Audi A6-esque sculpture line along the lower door panels are not unpleasant on the eye.
The most obvious design feature though is the short nose, a handy side effect of not having to find a home for a thumping big V8.
Roll on 26 March when we get to see the rest of it... ®